The Japan International Corporation Agency (JICA) has trained about 40 staff of Abuja Environmental Protection Board (AEPB), Town Development Department and Area Council Secretariat on waste management.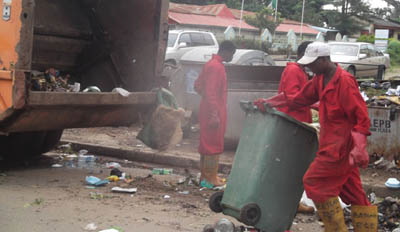 Mr Muktar Ibrahim, the Head of Information and Outreach Unit of AEPB said this in a statement made available to the News Agency of Nigeria (NAN) on Monday, December 18, 2017 in Abuja.
Ibrahim said that the 40 staff trained were as part of its collaboration with JICA and FCT administrations to promote waste management in the city.
He said that AEPB staff, who benefited in the training were 15, STDD staff were 20, while area council secretariat were five staff.
Ibrahim said that one of the objectives of the training was to educate the staff on how composting could boost agricultural output.
He said that the adoption of composting was to promote environmental health and ensure clean environment as part of waste management techniques.
He said that the adoption would boost plant growth and increase agricultural production.
Ibrahim said that composting was an organic material mixed with soil to help plants grow.
The unit head said that one of the importance of composting was to help eliminate organic waste and fertiliser soil.
He said that materials that could be used for composting are food scraps, fruits, vegetables, eggshells, teabags, nutshells, shredded newspaper, cardboard, paper, grass clippings.
Other materials include houseplants, hay, straw, leaves, sawdust, cotton, wool rags, hair and fire place ash.
According to him, composting is used in Japan and it has resulted in the county`s achieving greatly agricultural production.
"The composting process has not been tested in Nigeria.
"So, that is the reason the trainees should ensure that they prepare the compost in their homes to see how well it works before introducing into their farms or gardens.
"This is because the environmental factors and weather conditions of Nigeria and the one of Japan are not the same.
"The composting process is also an aspect of the Integrated Solid Waste Management (ISWM) programme which has three Rs – Reduce, Reuse and Recycle.
"Reduce, reuse and recycle is part of waste management process which has been widely used in many Asian countries to maintain a cleaner environment,'' he said.
Ibrahim said that composting could also help in reducing volume of waste brought daily to the dump site.
By Vivian Emoni