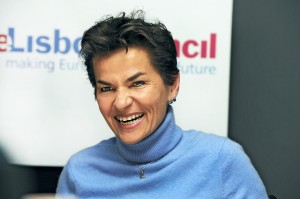 Japan on Sunday announced a pledge of $1.5 billion to the Green Climate Fund (GCF) ahead of next week's pledging conference in Berlin.
The pledge, announced on the margins of the G20 Summit taking place in Brisbane, Australia, comes in the wake of a $3 billion pledge by the United States.
Total pledges to date for the GCF, the financial instrument designed to assist developing countries achieve their mitigation and adaptation ambitions, stand at around $7.5 billion putting the aim of $10 billion by the next UN climate convention conference in sight.
Christiana Figueres, Executive Secretary of the United Nations Framework Convention on Climate Change (UNFCCC), said: "I welcome the government of Japan's pledge which has, along with other announcements over the past few days triggered a positive atmosphere around the upcoming pledging meeting in Berlin and in advance of the UN climate convention conference in Lima in a few weeks' time."
Ms Figueres also welcomed Sunday's statement by the G20 Heads of State which included a strong and supportive section on climate action.
The statement said: "We support strong and effective action to address climate change. Consistent with the United Nations Framework Convention on Climate Change (UNFCCC) and its agreed outcomes, our actions will support sustainable development, economic growth, and certainty for business and investment. We will work together to adopt successfully a protocol, another legal instrument or an agreed outcome with legal force under the UNFCCC that is applicable to all parties at the 21st Conference of the Parties (COP21) in Paris in 2015."
"We encourage parties that are ready to communicate their intended nationally determined contributions well in advance of COP21 (by the first quarter of 2015 for those parties ready to do so). We reaffirm our support for mobilizing finance for adaptation and mitigation, such as the Green Climate Fund," it added.
With 196 Parties, the UNFCCC has near universal membership and is the parent treaty of the 1997 Kyoto Protocol, which has been ratified by 192 of the UNFCCC Parties. For the first commitment period of the Kyoto Protocol, 37 States, consisting of highly industrialised countries and countries undergoing the process of transition to a market economy, have legally binding emission limitation and reduction commitments.
In Doha in 2012, the Conference of the Parties (COP 18) serving as the meeting of the Parties to the Kyoto Protocol adopted an amendment to the Kyoto Protocol, which establishes the second commitment period under the Protocol. The ultimate objective of both treaties is to stabilise greenhouse gas concentrations in the atmosphere at a level that will prevent dangerous human interference with the climate system.