What is widely considered one of the world's toughest bans on ivory sales became law in the UK on Thursday, December 20 as the Ivory Bill gained Royal Assent to become the Ivory Act 2018.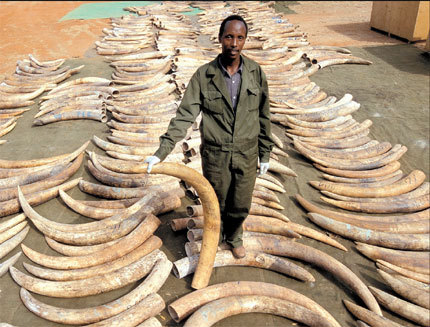 African countries on the frontline of the elephant poaching crisis have welcomed the new Ivory Bill passed by the UK Parliament, which introduces tough new rules on the commercial trade of ivory in, from and to the UK, as "a significant moment for elephant conservation".
In a signed declaration, senior representatives from 13 countries belonging to the Elephant Protection Initiative (EPI), an alliance of African states with common policies on elephant conservation, said: "We believe the UK's new law will have an impact not only within its borders but will also support and encourage enforcement efforts and initiatives to reduce ivory trafficking in Africa, and around the world."
The EPI includes Botswana, Gabon, Kenya and Tanzania, which have some of the largest remaining elephant populations in Africa. Other EPI countries which signed the declaration are Angola, Chad, the Republic of Congo, Ethiopia, Liberia, Malawi, Nigeria, Sierra Leone and South Sudan.
EPI countries, it was gathered, have already shut down their own domestic ivory markets, or are in the process of doing so, arguing that any legal ivory trade provides a cover for the illegal trade and sustains demand for poaching. Some 20,000 elephants are reportedly killed in Africa each year, mostly for ivory which is ultimately destined for Asia.
In their declaration, the EPI countries said, "Poaching is big business, run by ruthless networks that thrive on, and create, lawlessness. It is linked to the trafficking of weapons, drugs and the spread of terror. Hundreds of our wildlife rangers have been killed trying to defend elephants from well-armed poachers."
The EPI countries hope others will now follow the UK's example.
"We need global action to end the ivory trade for good," the countries said in a statement made available to EnviroNews, "and we strongly urge other governments which have yet to adopt similarly tough measures to follow suit, particularly the EU and Japan, two of the principals remaining legal markets for ivory."
Signatories
Angola: Paula Coelho, Minister for the Environment
Botswana: Tshekedi Khama, Minister of the Environment
Chad: Sidick Abdelkerim Haggar, Minister of the Environment
Republic of Congo: Rosalie Matondo, Minister of Forest Economy
Ethiopia: Prof. Fekadu Beyene, Commissioner of Environment, Forestry and Climate Change
Gabon: Prof Lee White, Director, Gabonese National Parks Service (ANPN)
Kenya: Najib Balala, Cabinet Secretary of the Ministry of Tourism and Wildlife
Liberia: Hon C. Mike Doryen, Managing Director of the Forestry Development Authority (FDA)
Malawi: Brighton Kumchedwa, Director, Malawi's Department of National Parks and Wildlife (DWNP)
Nigeria: Ibrahim Usman Jibril, Minister of the Environment
Sierra Leone: Fatima Jabbie Maada Bio, First Lady
South Sudan: Jemma Nunu Kumba, Minister for Wildlife
Tanzania: Dr. Hamisi Kigwangalla, Minister for Natural Resources and Tourism.
The EPI is a coalition of 19 African Elephant Range States, with common policies on elephant conservation. Most of Africa's surviving elephants are said to be in EPI countries.