The Conservator-General (CG), National Park Service, Ibrahim Goni, has expressed satisfaction on its partnership with the International Union for the Conservation of Nature (IUCN) on biodiversity.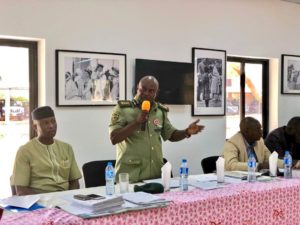 Goni said this on Friday, March 4, 2022, in Abuja during an assessment meeting of the level of inclusion of protected areas and biodiversity.
He said that biodiversity encompassed so many sectors of the economy such as Agriculture, Water Resources, Environment and Works and Housing, among others.
Goni said that the country's long term vision for biodiversity management is "a Nigeria with healthy living environment where people live in harmony with nature and sustain the gains and benefits of biodiversity''.
"In line with Article 6 of the Convention on Biological Diversity (CBD) Nigeria has integrated biodiversity considerations into various sectors of the economy," he added.
Goni said that Nigeria required enhanced co-operation at the local, regional and global levels to ensure the conservation and sustainable use of her rich biodiversity and to ensure equitable sharing of the benefits derivable from these resources.
He said that a successful effort would no doubt influence development in the West Africa sub-region as such, enhanced international co-operation would be vital.
The CG said that IUCN would study the conservative laws that governed biodiversity conservation in order to activate its partnership with the National Park Service
"We want capacity development of our officers in the area of training and retraining and how to support some of the protected areas that we have.
"When our protected areas are supported, the issue of migration and poverty would be addressed,'' he assured.
A consultant with IUCN, Retired Col. Abdoulaye Ndiaye, said that the aim of the partnership is to study the conservative laws governing the National Park Service in order to support its protective areas.
Ndiaye assured that IUCN would also imbibe skills in the officials of the Park through training and retraining to enhance better performance.
He said that IUCN would unveil the strengths and weaknesses in terms of laws governing parks and try to fill the gaps.
By Abigael Joshua