The Government of Italy is providing a soft loan to the Government of Kenya to improve solid waste management in Ngong town, a satellite urban centre of the capital city, Nairobi.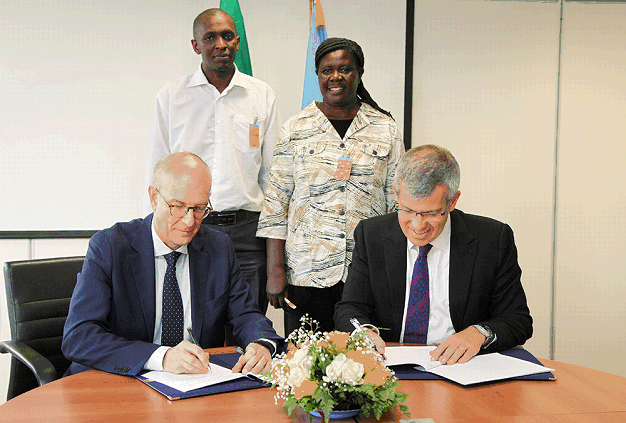 The project will allow the introduction of sanitary landfill technology and resource recovery facilities at a new site in Ngong town that will replace the illegal dumpsite that is currently in use.
The United Nations Human Settlements Programme (UN-Habitat), based on its expertise and competencies related to its mandate, will over the coming months carry out a feasibility study including environmental and social impact assessments to inform the final design of the new waste management facility. UN-Habitat will also carry out environmental and social impact assessment studies for the decommissioning of the old dumpsite which was closed down by the Government of Kenya in 2016 for its failure to meet the recommended environmental standards.
The activities that will take place include:
A diagnostic baseline survey to summarise the current status of solid waste management in Kajiado County where Ngong is located;
An environmental and social impact assessment of the closure of the illegal dumpsite as well as a study of the technical feasibility, the applicable technology and financial feasibility of the closure;
An environmental and social impact assessment for the new dumpsite as well as a study of the technical feasibility, the applicable technology for resource recovery and financial feasibility;
Consultative workshops with stakeholders and public awareness campaigns on proper waste management; and
Development of a full size project document for the integrated solid waste management project in Ngong town with recycling plan to recover resources from waste.
The current illegal dumping site of Ngong Town receives over 40 tons of waste daily, 60% of which is organic waste that could be transformed into biogas energy. Some 130 families are working and earning a living from the dumpsite. The environmental damages from the illegal dumpsite are adverse, according to the UN-Habitat.
Vincent Kitio, the Chief of the Urban Energy Unit which will be responsible for the carrying out the feasibility study, said: "This joint project will bring about positive environmental change. The resource recovery facilities and sanitary landfill site will improve the current improper handling of waste and benefit local communities by turning recyclables into value. UN-Habitat will use this pilot project as a demonstration model and replicate the same to other towns and countries. We will capture lessons and good practices from this project and share them with other towns and countries".
According to the UN-Habitat, it has continued to support cities and towns to meet their SDG goals, adding that Ruiru town in Kenya is a beneficiary of UN agency's work in solid waste management.
"The dumping site in Ruiru was rehabilitated using the Fukuoka method. In Kisii town, 15 youth are working on recycling plastics and earning a living."