After a nearly week-long rampage through the Caribbean, Hurricane Irma made landfall in the Florida Keys at 9:10 am (local time) on Sunday (September 10, 2017) morning as a 130 mph Category 4 – beginning a day-long onslaught of the country's most hurricane-prone state.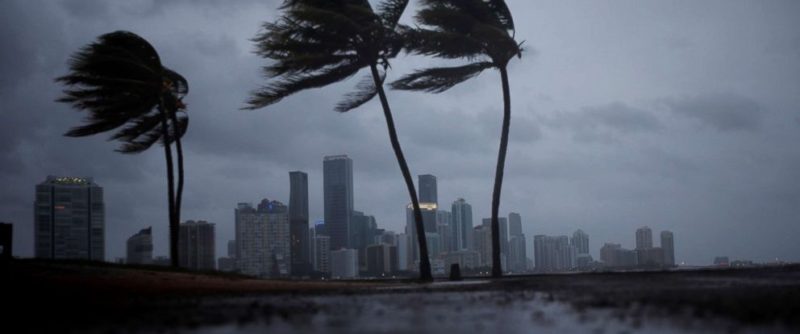 Winds at the National Weather Service office in Key West frequently approached 100 mph as meteorologists braced themselves inside their fortified office, providing updates on the storm. "This Is As Real As It Gets," one of them wrote in a tweet. Later in the day, Irma's core of winds and storm surge will move up the state's west coast, maintaining at least Category 3 strength until the center is north of Tampa.
An impact this strong is rare, even for Florida. Just six hurricanes in U.S. history have made landfall at a greater intensity than Irma, the last being Hurricane Katrina in 2005. Together with last month's landfall of Hurricane Harvey, Irma marks the first time in U.S. history that two Category 4 hurricanes have made landfall in the same year, let alone back-to-back.
Miami-Dade County, where Irma was previously feared to be headed, was rocked by wind gusting up to 100 mph that knocked out power to more than half of its 1.1 million customers. Tornado warnings punctuated the night. The constant howl of wind was interrupted every so often with something slapping into shutters.
Nearly seven million people have been asked to flee the path of the storm; depending on how many have actually left, this could be the largest mass evacuation in U.S. history. The storm is so huge that tropical storm watches extend as far inland as Atlanta. Heavy rain and frequent tornadoes plagued the Miami area overnight, and should continue throughout the day.
As the storm moves away from the Keys, the biggest worry is Irma's immense coastal flood potential, which could bring record-setting inundation to nearly all of the state's West Coast cities, including Naples, Ft. Myers, and Tampa. In southwest Florida, water levels could approach 15 feet above normal, with waves an additional 30 feet on top of that. That's enough to submerge entire neighborhoods.
In Naples, water levels are expected to sharply rise as Irma's center passes by and winds shift from offshore to onshore – creating a tsunami-like effect which could lead to an eight-foot wall of water inundating beaches in a matter of minutes. Irma's surge is expected to be concentrated in Ft. Myers, where residents spent the night in the hallways of local schools.
In Tampa Bay, widely considered to be the most vulnerable metro area in the country to severe storm surge, Irma's massive circulation could align to produce a near worst-case scenario should it track just offshore. The last time Tampa had a direct hit with a hurricane as strong as Irma was 1921, when the region had less than 2 percent of its current population. Official forecasts call for Irma to move directly over the metro area.
In addition to the coastal flooding, Irma is expected to bring up to two feet of rain to large parts of Florida today, and since the hurricane is wider than Florida itself, hurricane force winds could affect the state's East Coast cities as well.
Such widespread impacts means Irma will almost surely become one of the worst hurricanes in U.S. history. Quick growth statewide in recent years means there are many more people in harm's way than during 1992's Hurricane Andrew, the last storm this strong to hit the state. Initial estimates from insurers are that, with Harvey, Irma could rank among the country's all-time costliest natural disasters.
The connection between climate change and hurricanes like Harvey and Irma is complicated, but there's one thing for sure: Rising seas are making coastal floods worse, and seas are rising in Florida at some of the fastest rates anywhere in the world.
Courtesy: Daily Beast