Experts from the Intergovernmental Panel on Climate Change (IPCC) will meet in Quito, Ecuador, on February 12 to 16, 2018 to advance preparations of the "Special Report on the Ocean and Cryosphere in a Changing Climate".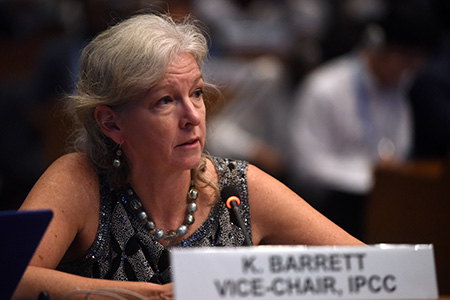 The Second Lead Author Meeting of the report will bring together around 100 experts from more than 30 countries, and is hosted by the Government of Ecuador.
The report on the ocean and cryosphere is one of three special reports that the IPCC, the leading body for assessing the science related to climate change, is releasing over the next two years.
The cryosphere – from the Greek kryos meaning cold or ice – is a word to collectively designate the areas of the Earth where water is found in its solid state. This includes ice sheets, frozen lakes and rivers, regions covered by snow, glaciers, and frozen soil.
"IPCC authors are assessing scientific literature about changes in the ocean and the frozen parts of our planet, their effects on ecosystems and humankind and options for adapting to them," said IPCC Vice-Chair, Ko Barrett. "This report will help policymakers better understand the changes we are seeing and the risks to lives and livelihoods that may occur with future climate change."
The meeting in Quito, the second of four lead author meetings for the report, will lead to the preparation of the First Order Draft which will be circulated for expert review in May 2018. The report will be finalised in September 2019.
"The ocean and the cryosphere play essential roles in the climate system and the ecosystem services that humankind depends on," said Hans-Otto Poertner, Co-Chair of IPCC Working Group II. "Scientists are also trying to understand how the frozen and liquid water bodies of our planet interact, and how sea level will change and affect coastlines and cities."
Mr Poertner noted that glaciers are already retreating in the Andes, with impacts on water supplies for large cities such as Quito. "Furthermore, the region hosts unique ecosystems with high biodiversity which are now challenged by human-induced climate change on top of other human influences," he said.
The report is being prepared by IPCC Working Group I, which assesses the physical science basis of climate change, and Working Group II, which deals with impacts, adaptation and vulnerability.
Tarsicio Granizo Tamayo, Minister of the Environment of Ecuador, and Maria Victoria Chiriboga, Undersecretary of Climate Change, as well as IPCC co-chairs, will address the opening ceremony of the meeting on Monday, February 12, while a public event presenting the work of the IPCC will take place on February 16.