The Nigerian Conservation Foundation (NCF) has explained the reason behind its involvement of school children in its tree planting campaigns.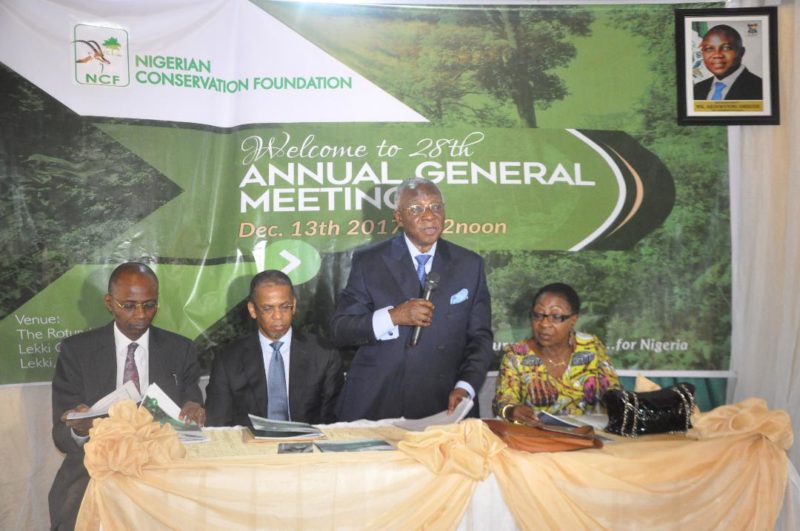 Ede Dafinone, Chairman, National Executive Council (NEC) of NCF, during the 28th Annual General Meeting (AGM) of NCF held at the Lekki Conservation Centre (LCC) on Wednesday, December 13, 2017 said: "We chose to involve school children in the tree planting exercises across the three states to inculcate in them, as leaders of tomorrow, a sense of care for the environment."
As a further demonstration of NCF's commitment to enhance Nigeria's forest cover, the foundation, according to Dafinone, partnered with First Bank to carry out tree planting exercises in select schools in Lagos, Ogun and Edo states.
"This was part of the foundation's efforts at stimulating and promoting local actions in response to the global call by the Food and Agriculture Organisation (FAO) that each country should strive to have 25 per cent of its total land area under forest cover."
In his speech, the chairman also enumerated some of NCF's projects.
According to him, NCF implemented a project in select communities of Boki Local Government Area, Cross River State, on Saving Biodiversity and Building Farmers' Resilience on Climate Change Impacts Through Intensive Agriculture and Sustainable Livelihoods.
This was made possible by a grant provided by the Global Environment Facility/Small Grants Programme (GEF-SGP).
NCF, as the technical partner to the Nigeria LNG (NLNG) Limited on the management of the Finima Nature Park, Bonny Island, Rivers State, he said, conducted carbon stock assessment to determine the volume of carbon the forest is helping to sequester to promote NLNG's carbon footprints reduction.
On how the foundation recorded success in those projects, he said: "We interacted with policy makers at all levels to influence enabling policies to govern sustainable management of Nigeria's environmental resources. We organised outdoor programmes to raise the level of awareness on the state of Nigeria's environment in collaboration with relevant organs of the government.
"As a membership-based organisation, we engaged our esteemed members by sharing reports and information on our activities and interventions as well as through regular involvement in our key programmes."
Director-general of NCF, Adeniyi Karunwi, in his report, said the foundation collaborated more with the Federal Ministry of Environment and the National Park Service on environment issues.
"The foundation also strengthened its collaboration with partners and sponsors, translating to institutional strengthening," he said, disclosing that the foundation's membership figure marginally rose by over 15 per cent with more corporate organisations to drive programmes.
"The membership unit established the online registration platforms and made use of social media platforms to reach out to the public.
"A lot more still needs to be done to attract more members to register with NCF, with particular emphasis on children and youth population."
Dafinone added: "We are convinced of the need to do more for nature, for our people and for Nigeria.
"But we equally realise that we cannot do it alone. I therefore seize this opportunity to call for your continued support and I assure you that we are determined not to rest on our accomplishments as we collectively address the environmental challenges that confront us and our nation."