For 26-year-old Ms. Nneka Eze, empowerment comes from within.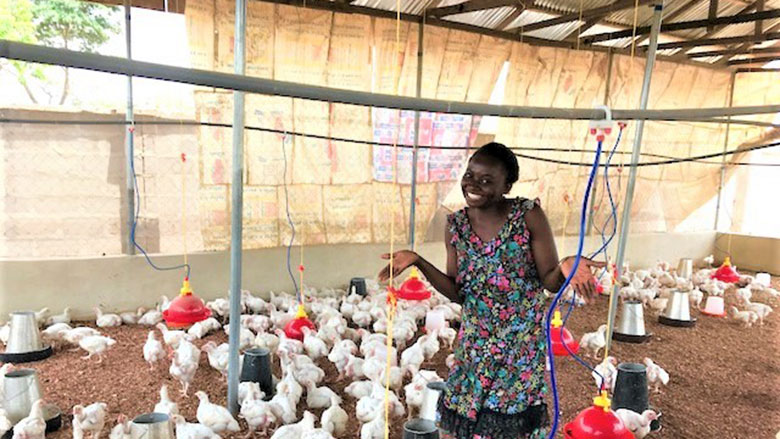 "My dream ever since I was a student was to own a big farm, my own farm, called 'Nekky's Farm,' which will even export outside the country," said Eze. "My country, Nigeria, will be a place where we produce food in abundance. This is my passion. It is a goal I have set for myself, and I am going to accomplish it."
Nigeria is experiencing only a slow reduction in its poverty-to-growth rates, and in lowering income inequality as well. About half its 170 million people live on the poverty line (on $2.5 a day) and almost 75 percent perilously close to it (on $4 a day). Many Nigerians have limited access to even the most basic social services, face job losses and other labor market issues, and have few, new economic opportunities on offer to them, due to a dearth of infrastructure.
"An unemployed graduate of Agriculture Engineering, I walked into the Ministry of Agriculture and was directed to the Women and Youth Empowerment Programme," said Eze, a beneficiary in Abakpa Enugu East in eastern Nigeria. "My experience since then has been a wonderful one. I received training in commercial broiler production."
"It has not only been a rewarding experience, I am continuously learning every day," she said. Broilers are chickens raised for meat, not eggs.
The Commercial Agriculture Development Project for Nigeria recognises beneficiaries as key players and partners in poverty reduction, and does this by laying down lasting mechanisms for starting micro-projects at grassroots level, principally for youth, women, the aged, and children.
Currently implemented in 26 states, the project supports the strengthening of skills, and the capacity of Local Government Authorities (LGAs) and other public agencies to support communities and build partnerships between them. The driving objective is community participation, with a commitment to results its focus.
"There is a strong support system," said Martin Nnedu, from the Agricultural Products & Advisory Services. "Each micro-project is assigned an officer in the State Commercial Agriculture Development Office who provides technical assistance when needed, such as linking the beneficiaries to experts like veterinarians."
Over 1,600 plans are being put into place, with about 3,435 micro-projects, of which more than 50 percent are completed and in use.
"Participation at the community level is broad-based and transparent," said Adekunle Adesoye, a National Coordination Office Monitoring & Evaluation specialist. "And from my experience of visiting many micro-projects, the participants have been satisfied and are empowered to thrive."
Courtesy: The World Bank