As the world celebrates the International Women's Day, the Nigerian Alliance for Clean Cooking (NACC) has recommitted and reaffirmed support to women striving to overcome energy poverty to ensure gender equality for a sustainable tomorrow and bring clean cooking solutions to everyone.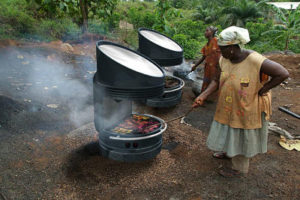 In a statement made available to EnviroNews on Monday, March 7, 2022, the group is clamouring for clean and safe cooking practices to prevent death and diseases for women and children and accelerate the fight against cooking energy poverty.
To celebrate and promote gender equality for a sustainable tomorrow and transform women's lives, the group is collaborating with the Federal Ministry of Women Affairs in Abuja on Tuesday, March 8 to exhibit some clean cooking technologies and fuels.
The NACC said: "International Women's Day, usually celebrated on March 8, is a day when we celebrate the social, economic, cultural and political achievements of women all over the world."
The theme for 2022 International Women's Day is "Gender Equality Today for a Sustainable Tomorrow" – a push for gender equality worldwide for a sustainable future.
The NACC said it is "joining with many to press for progress in gender equality especially when it comes to the unpaid work and task associated with cooking".
The use of efficient and clean cookstoves, according to the group, saves lives, improves livelihood, empowers community and combats climate change.
It added: "Enhancing access to clean cookstoves is linked with progress on the implementation of many of the Sustainable Development Goals (SDGs). The NACC promotes the transition from the use of traditional three-stone stoves/open fire to higher levels of efficiency and cleaner cookstoves such as LPG, ethanol, electric, solar and efficient biomass stoves.
"The Nigerian Alliance recognises that, when given the chance, women and girls, including those displaced by insurgency, can do so much more with their time. A clean cookstove means new opportunities for women, within their families, their communities and the society at large. Inadequate access to clean cooking energy needs to be taken as a development priority and be tackled today."
Nigeria suffers a "silent" energy crisis – poor access to clean cooking energy. Over 20 million households and about 120 million Nigerians depend on wood primarily as a source of fuel for cooking. It is recognised that women disproportionately make up this number.