States that have indicated interest to key into the Nigeria Erosion and Watershed Management Project (NEWMAP) have been asked to contribute a minimum N500 million as counterpart funding.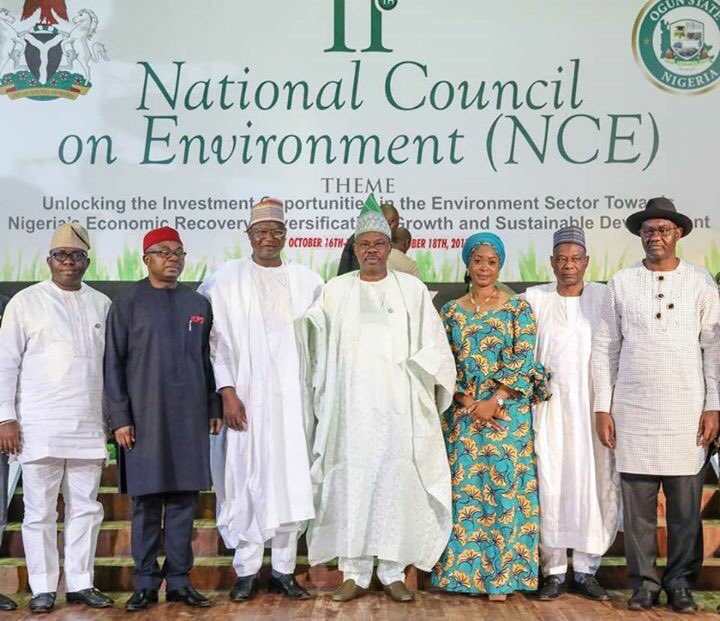 Similarly, they are to provide 12.90% of total cost of the project as well as make available base line data of erosion sites in their states.
This was one of the major resolutions of the National Council on Environment (NCE) held from October 16 to 18, 2017 in Abeokuta, Ogun State.
NEWMAP commenced about five years ago with seven states and, as a result of achievements recorded by the first mover states, the project has been expanded with a total of 19 states in partnership. The NEWMAP family may expand even further as more states have apparently indicated interest in joining the fray.
But finance is increasingly becoming a major cause for concern, in the light of dwindling resources at the international, national and state government levels. The issue attracted the interest of participants at the recently held International Conference on Geo-Spatial Technlogy (or SSKE Knowledge Fair) in Abuja, where it was disclosed that some states were toying with the idea of using part of their Ecological Fund allocation as counterpart funding for NEWMAP, which is regarded as a one-stop-shop solution to erosion control and management in Nigeria. The idea however raised a mixture of support and objections.
The NCE in Abeokuta expressed concern over the fact that the nation's current forest cover is less than 4% as against the expected 25%. It resolved therefore that exportation of charcoal in Nigeria should be banned and alternative clean source of energy should be developed and promoted.
The Federal Ministry of Environment was asked to step up actions toward synergy with relevant MDAs through Memoranda of Understanding (MoUs) in order to resolve serious challenges of overlap, conflict and duplication of regulatory roles.
Similarly, the Federal Government was directed to put in place policies and other measures to promote provision and utilisation of solar energy and energy efficient cook stoves, even as there should be synergy between the federal and state governments in the implementation of climate change programmes especially on capacity building and access to global climate finance.
Other resolutions at the NCE were listed to include:
That states should be encouraged to put in place waste-to-wealth programmes/initiatives that can attract private sector participations and foreign direct investment in order to unlock investment opportunities in the waste management sub- sector.
That state governments should provide security for Federal Ministry of Environment projects under implementation in their states to prevent vandalisation and also fulfill their obligations as agreed.
That the Federal Ministry of Environment should domesticate the Minamata Convention on Mercury and other Multilateral Environmental Agreements (MEAs) ratified by Nigeria.
That the Federal Ministry of Environment and states should establish reliable electronic based data bank on Pollution Control and Waste Management issues in the country.
That Flood Early Warning Systems (FEWS) in flood-prone areas should be installed by federal, states and local governments to save lives and property during flooding.
That more awareness and sensitisation should be carried out to achieve better adoption of Tree planting and reforestation of degraded forest estates.