India, along with 100 other nations, will ratify the Paris "COP 21 Global Climate Agreement" in New York on April 22, Union Environment Minister Prakash Javadekar said in Mumbai on Saturday.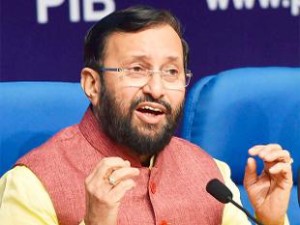 "The COP 21 agreement would be ratified at a high level signing ceremony to be convened at the UN Headquarters in New York on April 22," Javadekar said at a symposium at the University of Mumbai.
"All countries have decided to walk the green path as per their common but differentiated responsibilities. India was always perceived to be a naysayer and negative in its approach and took a corner seat in most of the international conferences. But in Paris, Prime Minister Narendra Modi introduced the concept of climate justice driving home the message of sustainable development," Javadekar said at the symposium titled "COP 21 Building Synergies, Shaping Actions".
Saying that climate change was a reality with 1-degree rise in temperature caused by 150 years of uncontrolled carbon emission by the developed countries, Javadekar said India was responsible for only three percent the global carbon emission. Thirty percent of the cumulative contribution was that of the United States, 50 percent by Europe, Canada and other developed world and 10 percent by China.
"Though India is not part of the problem, it wants to be part of the solution. Our commitment is reflected in every programme being pursued by the government," he said.
Describing the Paris Agreement as a victory of multilateralism and the one which helped correct the image perception of India, the minister said: "If the developed world followed India's example and levied higher taxes on coal, billions of dollars would accrue to pursue clean energy programmes."
The minister also said that the proposed Compensatory Afforestation Funds Bill 2015, would unlock Rs. 40,000 crore of funds for the 'Green India' initiative. The fund would be released during the resumed Budget session.
Union Minister of State for New and Renewable Energy, Piyush Goyal, on the occasion said that India has launched the world's largest renewable energy programme by scaling up the target for solar energy by pushing ahead the 20,000 megawatts of solar electricity generation to 1,00,000 megawatts by 2022.
Goyal also lamented 'lack of commitment' of the developed world in fulfilling their obligations.
"India's green energy programmes will be carried out whether we receive support of the western world or not".
The 21st Session of the Conference of the Parties (COP 21) to the United Nations Framework Convention on Climate Change (UNFCCC) 21 was held in December 2015 in Paris where 195 countries adopted the first-ever universal, legally binding global climate deal. The agreement sets out a global action plan to put the world on track to avoid dangerous climate change by limiting global warming to well below 2-degree Celsius. The agreement is due to enter into force in 2020.