The International Institute for Sustainable Development (IISD) has welcomed the release of Canada's Intended Nationally Determined Contribution (INDC), committing the North American nation to reduce greenhouse gas (GHG) emissions by 30 percent below 2005 levels by 2030.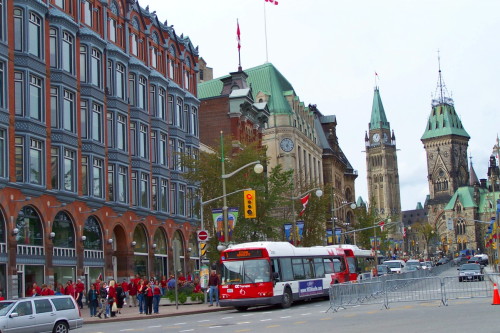 A key element in meeting this target will be new rules to reduce methane emissions from the oil and gas sector by addressing leaking and flaring, which contributes significantly to the industry's emissions. There will also be new rules for natural gas electricity sector emissions, and new standards to limit emissions from chemical and nitrogen fertilizer manufacturing.
These measures will be supplemented by previously announced federal regulations to reduce emissions from light and heavy-duty vehicles, ban certain high-emitting HFCs and introduce new emission standards for coal-fired power plants. Canada's INDC also highlights the potential to use international mechanisms to offset domestic emissions, which is an important shift from previous positions.
The announcement by Ottawa follows the commitment made by Ontario on May 14, 2015 to reduce its emissions by 37 per cent below 1990 levels by 2030. In the lead-up to negotiating a new international agreement in Paris later this year, the role of provinces and territories, as well as cities and companies, is more important than ever in moving to cleaner, low-carbon energy solutions.
Canada's new 2030 target amounts to 14.5 percent below 1990 levels. The federal Emissions Inventory, released last month, confirmed that Canada will not meet its current 2020 emission reduction target. IISD's Senior Energy Researcher, Philip Gass, said: "We are looking forward to details on the new rules and policies, and clarity on the timeline for implementation, both of which will be critical to meeting this new target."