The doctor at the general hospital had warned Nana to stay away from the fumes. It wasn't good for her health and the pain in her eyes were signs that could very much be signs of cataract. But she had a family of 10 to feed. Her husband was retired early because of an arthritis caused by a bike accident.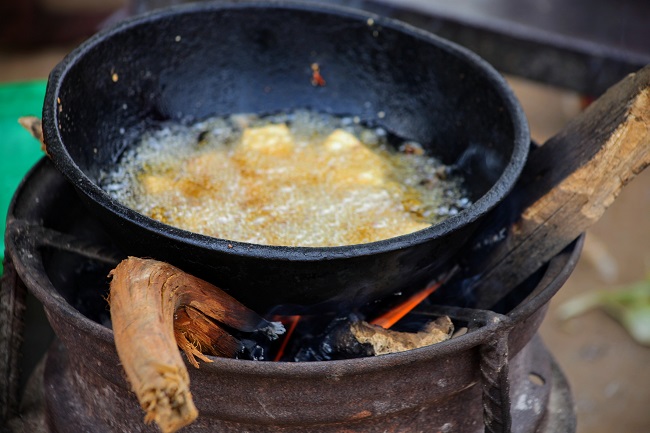 Nana hails from a small community in Kaduna State. Married with six children and two children from her husband's late second wife, she had the weight of responsibility on her shoulders.
Her famous waina attracted several persons who regularly lined up in front of her house to buy breakfast. Today however, seemed to be different. The pain in her eyes was so intense she thought at some point she could not make out the colour of her bedroom curtain. She definitely couldn't light the Murfu – a stove made of three or more large stone that props her cooking pot.
"Abdul!" she yelled for her son. "Go and light up the firewood for me please. We have customers to feed today!"
She continued to stir the rice mixture as she hummed a local song. She had sung halfway into the song when she heard the sound of an explosion, followed by the loud cry from Abdul. Her heart skipped a beat and, in a bid to rush outside, she knocked off the bowl in which she had the slightly fermented rice mixture. She could barely keep her balance as she slipped on the mixture poured on the floor.
A crowd had already gathered. What had happened? Where was Abdul? Fear swept through her and suddenly streams of sweat coursed down her face. Abdul was sprawled on the floor, screaming in pain from burns on part of his face and arm.
Her family must be under a curse, she thought as she waited in the lobby of the hospital where Abdul was rushed to. She had been selling waina for five years. Her husband's condition had forced her to take up the reins and become the provider for the family. They didn't have much resources available to them and this business has been the source of subsistence for her family. What was she going to do? Abdul usually helped her set up the fire in the Murfu because of her eyes. Now he would be disfigured. If he survived the burns.
She felt a gentle tap on her shoulder.
"Nana," the doctor said. "Your son is stable. However, he may need to undergo surgery."
"Thanks to God," she quickly replied, wiping tears from her face with her wrapper.
"How did it happen?" the doctor asked.
Her son had poured some kerosene on firewood to light a fire for her Murfu.
He kept the jerrycan with kerosene close by as he blew air on the embers to get the fire started. That was when the jerrycan exploded. I am told this was no ordinary kerosene. She wept uncontrollably
"Enough, enough," the doctor said patting her shoulder.
Just then, her sister ran frantically into the hospital. The doctor excused her.
Nana let the tears roll down again. Her sister who lived in the next village had heard the news. The whole family would be talking about her now. They must think she is the worst mother on earth.
"The doctor said he is stable," Nana told her sister. "But that they might have to do a surgery. I am really scared and uncertain. What if things got more complicated?"
"Ah, God forbids it!" her sister replied.
She hugged Nana and they chatted about her waina business, family struggles and life in the COVID-19 pandemic. The restriction of movement was seriously hindering economic activities. Citizens were required to wash their hands under running water, but many did not even have standing water. COVID-19 added a layer to illnesses in Nana's community and surrounding ones.
"You see, health conditions like cataract, tuberculosis, lung cancer and even asthma are caused by the air pollution from unclean cooking. Unclean cooking is responsible for several premature deaths annually. Let's not even forget to mention the sexual violence our young girl's face when they go to farm to collect firewood," Nana's sister said.
Nana then remembered the stinging pain in her eyes and her mother's early blindness that was said to be a result of many years of cooking with firewood. Her mother had earlier complained about the same stinging pain she now had.
Nana shifted her thought back to her sister and listened with rapt attention. "Did I tell you about the incidence with my neighbour's daughter?" "No," Nana said. "What happened to her?"
"Hmmm… their thirteen-year-old daughter went to fetch firewood for the evening meal and wasn't back home till dusk. She was later found bleeding and unconscious along a bush path close to the family's farmland. Another victim of the increasing violence against girls and women this season.
At this point Nana held up her hands in shock, imagining the pain the girl's parents must have felt and also recalling the painful incidence with her own son. Her attention shifted once again to her son, her boy of eleven years. The pain he must be feeling and the disfigured look he would have to live with for the rest of his life. She fought back the tears that burned in her eyes.
"Nana," her sister called. "This is probably the right time to tell you this." "Tell me," Nana responded, drawing closer.
"I have always worried about the smoke you inhale as you cook waina with the Murfu. You are asthmatic and you know bad air isn't good for you."
"That's why I asked Abdul to make the fire," Nana replied. "To add to that, this morning I was feeling a lot of pain in my eyes. The doctor said it could be signs of cataract".
"Wow!" her sister exclaimed. "You really should pay more attention to your health Nana. It is good that you asked Abdul to assist you, but it is definitely not good enough". "No one is exempted from the evils of unclean cooking."
"Some women who cook with the Murfu in my village use a kind of cooking stove that does not emit much smoke. They don't even use those huge logs that you call firewood."
"You are not serious, my sister," Nana was incredulous. "What kind of fire is that? Is there fire without smoke? You must be trying to make me forget about Abdul's impending surgery. Let me tell you something. You can tell me those magical tales after Abdul gets well. You met me crying not only because of his injury, but because I cannot afford the hospital bills for the surgery. I have no money. Without making and selling waina I cannot afford the medical bills. Can you see why I cannot stop using the Murfu?"
"You can learn how the women in my village make waina without tears and sweats mingling on their faces," her sister told her.
"Fire without smoke? What would the food taste like? The smoke is what gives my waina a special flavour," Nana argued. "Smoke, firewood, asthma, eye pain. I can bear these until Abdul graduates from secondary school, gets a job and takes care of me."
Nana's sister knew how stubborn she was and how difficult it would be to draw her away from the firewood smoke-flavoured waina. Was that not the same reason men misbehave at wedding parties when they swoop on smoke-smothered jollof rice? Most Nigerians will swear that jollof cooked with firewood has no rival and that's why Nigerian jollof is better than the ones made in other countries including the famous wollof.
"Nana," she called after a long period of silence." I didn't tell you, but I have started making waina also!"
"Please don't joke," Nana replied. "The hospital may have a theatre, but this is not the type where they entertain people with comedy shows."
Just then a nurse interjected, shouting. "Yes, here we have medics, not comics."
"Come nearer, let me whisper something to you. This busybody nurse should have been a newscaster."
"I heard that," the nurse quipped. "Be careful about what you say as it may be added to your bill." She laughed as she picked her phone, dialed a number and began to focus on whoever she had called.
Nana's sister narrated that she learned how waina was made when she had a friend come visit her. Then she got to learn of the improved stoves that did not use firewood but in fact cooked with dust from the sawmill. She got some youths to make briquettes that she uses to cook.
"And, do you know what? Uncle Waziri ate my waina one day he came over to my home and was delighted that he could find waina that did not smell of firewood smoke. Would you believe that? And then he placed a standing order for me to supply his hotel with smoke-free waina! That's not all. Now other hotels are coming to me. My sister, I cannot even meet the orders.
I had planned to come tell you about the improved stove and ask you to partner with me before this sad incident."
Nana looked at her sister, mouth agape. "Smoke-free waina?" She muttered.
"Yes, Nana," and I came with one of the stoves and some briquettes. They are at your house. I also brought some cash as an advance for the supplies we need to meet."
Just then the doctor stepped into the waiting room.
"Excuse me, madam," he said walking towards Nana. "I'm happy you have dried your tears. Your son doesn't need surgery, after all. The burns were superficial, and the explosion did not do any serious harm."
"We thank God. Thank you, doctor," Nana replied. "Can we see him?"
"Yes. In fact, you can take him home," the doctor answered. "He would only have to come to dress the burns as an outpatient."
"Thank you, doctor," Nana repeated, nonplussed at her good fortune. "Can we have the bill?" She was now confident to ask since her sister had pressed a wad of notes into her hands.
"You won't have to worry about the bill," the doctor replied, turning to the nurse. "Did you say she makes smoke-free waina? She should make a supply for the breakfast meeting we are having next week. Deduct her bill and pay her the balance."
Nana was overjoyed. She thanked the doctor again and whispered to her sister, "this nurse must have a radio antenna in her ears."
"I heard that!" the nurse interjected.
They all laughed…
Amadi is a climate justice advocate who is passionate about clean energy. She uses her storytelling to drive her campaigns
"Murfu" is extracted from "A Walk in a Curfew and other Pandemic Tales", a 2020 publication of HOMEF
Readers can download the full eBook at www.homef.org