"One who causes others misfortune also teaches them a lesson" and, "if you close your eyes to facts, you will learn through accidents."
These African proverbs encapsulate the continent's climate change predicament. That while it has been a source of misfortune, it constantly provides us with lessons to climate proof and grow our economies – but only if our actions are persuaded by facts.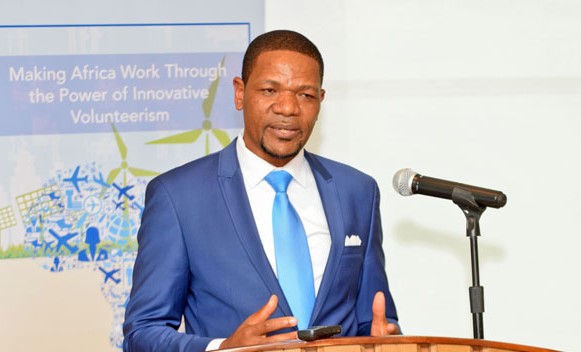 Last week, the United Nations Environment Programme (UNEP) released its annual Adaptation Gap Report. The report showed that if we increase ambition towards the safer 2°C goal, the losses in annual economic growth due to climate change, will be limited to 1.6%. But if we do not, these losses will increase to 2.2% for the unsafe 3.2°C trajectory.
This report called for investments in nature-based solutions to drive climate change adaptation. According to this report, a $1.8 trillion investment in adaptation measures would bring a return of $7.1 trillion in avoided costs and other benefits.
In the same vein about a few months ago, UNEP released the Emissions Gap Report whose analysis pointed to the fact that the level of global ambition in current Nationally Determined Contributions (NDC) commitments remains inadequate. And as a result, the globe is still heading for an above 3.2°C warming this century.
A figure that is way above the 1.5℃ threshold that is critical to forestall the worst impacts of the changing climate. However, this report did offer a glimmer of hope in what is called a "green pandemic recovery". Which implies a re-prioritisation of fiscal investments, in trajectories that lower emission but drive the much-needed socioeconomic bottom-line benefits which could cut emissions by up to 25% by 2030 and bring the world closer to the safe 2°C goal of the Paris Agreement.
A 1.5℃ warming scenario is the threshold set by the Paris Agreement as best insurance against an unravelling climate change impacts projected to spell doom for Africa. Key among them, a devastating 75% shrinkage of economic productivity in developing countries – most of which are in Africa.  Currently, one in three Africans – which is up to 422 million people – live in poverty.
This represents over 70% of the world's poorest people. While climate change is global, the poor are disproportionately vulnerable to its effects since they lack the resources to quickly recover from its effects. Youth unemployment is at its highest – with a gap of up to 13 million additional jobs needed each year. 257 million people go to bed hungry and accounts for over 70% of the world's poorest people – among key vulnerabilities.
The findings of this Adaptation Gap report send an unequivocal message of the urgent need to ratchet up adaptation actions which must align with accelerating socioeconomic growth to build resilience of populations in Africa.
Critical Facts for Bridging Adaptation Implementation Gaps in Africa
First, while Africa has contributed least to global emissions – just 2-3%, it stands out as the most vulnerable to climate change. With vulnerability driven primarily by the prevailing low levels of socioeconomic development. Communities cannot afford the goods and services they need to buffer against the worst impacts of climate change.
This is the core of Africa's disproportionate vulnerability. While climate change is global, the poor are disproportionately vulnerable to its effects because they lack the resources to quickly recover from its effects. The message for the continent is therefore clear – that efforts to drive adaptation must align with accelerating socioeconomic growth to build resilient populations.
A resilient population is an economy-wide responsibility. The work of every ministry and every sector of the economy – aims to build resilience of citizens – to enable them put food on their table, money in their pockets, a job for every youth and a globally competitive economy. Investing in adaptation is a sound economic decision and must become an added tool in every countries' economic arsenals. 
Second, and building on the above, an African proverb reminds us that "every adversity carries with it the seed of equal or greater benefit". While the threat of climate change looms, it is a blessing in disguise. Prioritising adaptation is an investment for direct and indirect realisation of socially and economically inclusive development that is the core aspiration of any government.
Adaptation directly contributes to the realisation of of the SDGs. Every ministry of government in the world, every sector of the economy, has the responsibility of driving actualisation of one or more of the SDGs. Adaptation therefore offers us a shortcut. 
Third, according to UNEP Adaptation Gap Report annual adaptation costs in developing countries are estimated at $70 billion. This figure is expected to reach $140-300 billion in 2030 and $280-500 billion in 2050 even if the international community succeeds in keeping climate warming below 2°C. For Africa alone, this cost already means $7-15 billion per year for adaptation and could amount to $50 billion per year in 2050 – in the most optimistic scenario and excluding the costs of the energy transition.
At the same time the total investments required for implementation of ratified NDCs across Africa (conditional and unconditional) exceeds $2.5 trillion, approaching $3 trillion. Actualising the SDGs, requires at least $1.2 trillion annually. Africa therefore needs astronomical amounts to drive adaptation implementation. This is a clear call for alternative financing model, already solidified through high level policy provisions.
From the ground-breaking Addis Ababa Action Agenda on Sustainable Financing, to the UNEP inquiry into a more sustainable financing model for the future, to the UNEP Africa Adaptation Gap Reports, the message has been unanimous and two-pronged. That to sustainably finance development, first, we must embrace more innovative approaches that balance public and private, domestic, and international sources.
Second, we must divest from socially driven financing to investment financing. Where returns transcend the traditional social benefits to include environmental benefits and financial dividends that are critical for longevity.
Systemic approach and Policy Implications to drive adaptation implementation in Africa
Adaptation implementation in Africa should leverage the "green pandemic recovery" lens which is a focusing of fiscal & other investments in trajectories that lower emission but drive the much-needed socioeconomic bottom-line benefits. The following are principles to be leverage in driving adaptation implementation in Africa
First, "Leverage mitigation to power adaptation". Nature based solutions, on their own, have recorded pockets of successes across the continent. But to progress to broader solutions that underpin a green pandemic recovery – with not only food security enhanced, but the environment enhanced and more money put in more pockets, what is produced using nature-based approaches e.g. agro-produce grown using biofertiliser, must be value added.
And done so in a process that does not pile-up the aggregate emissions that compound climate change. And for this clean energy, which is a mitigation action, should be prioritised for powering value added actions. It is in adding value that wealth opportunities are created. Of critical importance however is the fact that, value addition does not need to start on a sophisticated scale. Rather, local solutions, accessible to the informal sector, work best.
For example, decentralising climate action solutions of solar dryers to farmers in local markets, to enable them to dehydrate and preserve their harvest that remains unsold at end of day and sell when demand peaks, has proven able to not only cut postharvest losses (PHLs) but increase earning up to 30 times. The scalability of this approach is multiplied when we consider the $48 billion worth of annual PHLs Africa experiences.
These tell us that if we apply nature-based solutions alone, we will only be increasing the haemorrhaging food losses. But if we combine it with clean energy for value addition, we will be on track to tap into billion-dollar worth of value-added enterprise opportunities.
Two, "Divest from socially driven financing to investment financing" where returns transcend the traditional social benefits to include environmental benefits and financial dividends that are critical for longevity. To start off on this trajectory, Africa already contributes 20% of its total current annual adaptation needs estimated at $15 billion. This means up to $3 billion of adaptation costs are financed locally. In addition to asking how the continent can raise the 80% deficit the question we should ask is, how can we invest the 20% the continent have to maximise returns?
How can continent ensure the benefit of the 20% in hand is invested in such a way that drives environmental benefit, measurable social & economic dividends in form of improved  climate action enterprise opportunities as well as financial – where climate action enterprises created operate profitably.
Structure for this transition from social to investment and enterprise financing already exists – and must now be strengthened. This can start with building on the structure for risk sharing & diversification already existing in the continent – such as communal cooperatives. For example, domestic adaptation financing should be invested in incentivising local, accessible and market-driven cooperatives & micro-finance institutions, to lend affordably to climate action enterprises providing socioeconomic co-benefits.
Third, "Policy coherence and Harmonisation to bridge Adaptation Implementation Gaps" In implementing climate action commitments – the NDCs, while the ministry of environment is responsible for reporting progress, the actual work is done by other line ministries – such as agriculture, energy, lands, transport, trade among key ones.
What this tells us is that just as "a bird cannot fly in one wing", Adaptation implementation policies cannot be left to the environment ministry alone. Implementing adaptation enterprises, drawn from catalytic sectors, that can support innovative financing cannot be done through one sector alone. Input from all the leading productive line ministries and sectors is critical. The good thing is that these policies already exist. The gap is in implementing them in a coherent cascade to move the needle of adaptation at the operational level.
Fourth, "Prioritising Human Capital". Investing in youth, by structurally guiding them to continually improve, refine & adapt their skills and creativity towards finding purpose in adaptation enterprises that upscale nature-based solutions and unlock tangible benefits for the community is a formidable strategy. And this is what we are doing through an approach we call Innovative Volunteerism to engage willing youth under UNEP EBAFOSA framework.
Conclusion
"A bridge is repaired only when someone falls into the water". Africa's high vulnerability coupled with astronomical adaptation financing gap, send a very clear message – Africa is already in the deep waters. But adaptation offers a way out.
By Richard Munang
For more information, contact:
Richard Munang is UN Environment Programme's Africa Climate Change Coordinator,
Mohamed Atani, Head of Communication and Outreach, UN Environment Programme, Africa Office (Tel: +254 (0) 727531253)