Managing Director of the International Monetary Fund (IMF), Kristalina Georgieva, has hailed policies and sustained implementation of reforms to address climate change by the different stakeholders in Rwanda.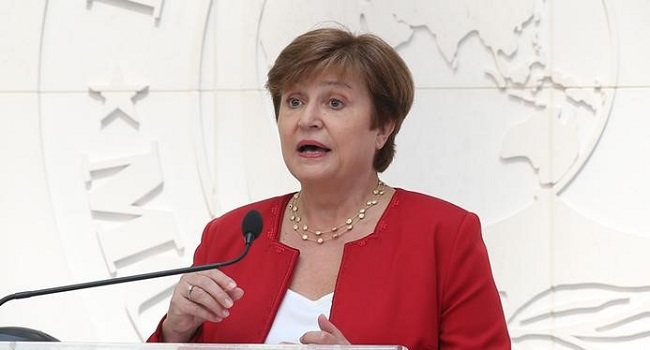 "I came away impressed by the dynamism and creativity of Rwandan youth advocating for climate action and environmental conservation, and entrepreneurs using their ingenuity to bring climate-friendly solutions for a greener tomorrow," she said.
Georgieva made the statement after exchanges with Rwandan youths, women, civil society, and green entrepreneurs in the capital city Kigali on Thursday, January 26, 2023.
In December 2022, Rwanda was announced as the first country in Africa to access the IMF's $319 million loan under the Resilience and Sustainability Facility, to support the country's ambitious agenda to build resilience to climate change and help catalyse further financing.
In a statement at the conclusion of her three-day visit to Rwanda, Georgieva said it was a testament to Rwanda's strong track record of policies and sustained implementation of reforms.
"Considering Rwanda's place as a pacesetter on climate initiatives and the challenges the East Africa region faces with increasingly frequent and damaging droughts and flooding.
"I appreciated the opportunity to focus on the existential threat of climate change."
She noted that climate change is a global emergency that transcends national borders.
Georgieva said she heard clearly Rwanda's unequivocal call for stronger international cooperation and coordination to address the challenge.
She called for international cooperation and coordinated solutions to climate challenges, including mobilising the needed financing.
The Resilience and Sustainability Facility is to help vulnerable low- and middle-income countries address longer-term structural changes, such as climate change and pandemic preparedness.
"We look forward to seeing Rwanda serve as a leading example of how long-term low-cost funding from the IMF can help sub-Saharan Africa mitigate the effects of climate change," Georgieva said.
While in Rwanda, Georgieva held discussions with senior policy makers from the East African Community on how the IMF can be a more effective partner to help the region emerge from multiple crises.
The discussion also centred on building a more resilient, inclusive, and greener economy.