A new online knowledge hub launched on Tuesday provides an unparalleled view of multilateral, national and sub-national efforts to achieve the Sustainable Development Goals (SDGs).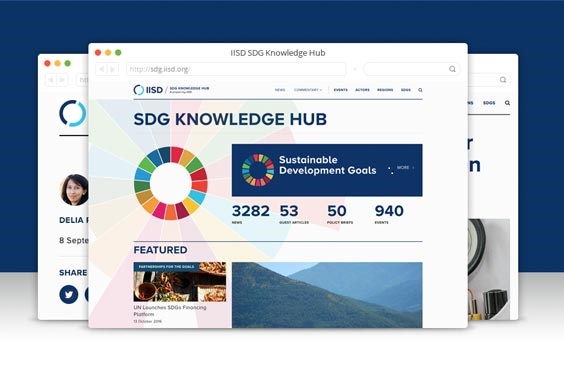 The International Institute for Sustainable Development's (IISD) SDG Knowledge Hub consolidates the organisation's Policy & Practice knowledgebases – and the tens of thousands of published articles contained within them. Focused on the 2030 Agenda for Sustainable Development, and its Sustainable Development Goals (SDGs), the platform draws on IISD's network of experts to provide real-time information on SDG implementation.
"The development of the 2030 Agenda for Sustainable Development was one of the largest participatory processes ever," said Scott Vaughan, President of the International Institute for Sustainable Development. "Information sharing, measurement and assessment will need to continue if the global community is to achieve the aims set out in the new agenda."
"The SDG Knowledge Hub provides a much-needed space for that exchange to take place," said Vaughan, adding:
"IISD experts are at the meetings we report on, talking to those involved, and gathering information from official, primary sources. We also develop partnerships with the institutions and organisations we cover, and publish original content from invited experts who are working on the frontlines of SDG implementation. The SDG Knowledge Hub does not aggregate news from other sources."
The SDG Knowledge Hub will be presented at an event in Geneva, Switzerland, on October 26th, and on a webinar on November 3rd.
According to IISD sources, the value of the hub lays in the depth of information it will contain on each SDG, as well as the breadth of knowledge across all elements of the integrated 2030 Agenda. Content is organised and searchable according to the 17 SDGs. Information is also categorised according to actors, focusing on intergovernmental bodies, agencies and funds within the UN system, as well as national governments, major partnerships, stakeholders and non-state actors.
In addition, content is searchable by seven regional groups as well as three regional groupings of small island developing States. A comprehensive calendar provides details on events that address SDG policy and practice.
Users can also filter posts by issue area, action type and specific elements in SDG 17, on the global partnership. This filter permits users to focus in on news based on whether it addresses means of implementation (MOI), such as capacity building and education, or the following systemic issues: data, monitoring and accountability; multi-stakeholder partnerships; and policy and institutional coherence.