The UN Environment has selected Nigerian, Olumide Idowu, as Lead Author for its Global Environment Outlook (GEO) for Youth (or GEO4Youth) publication.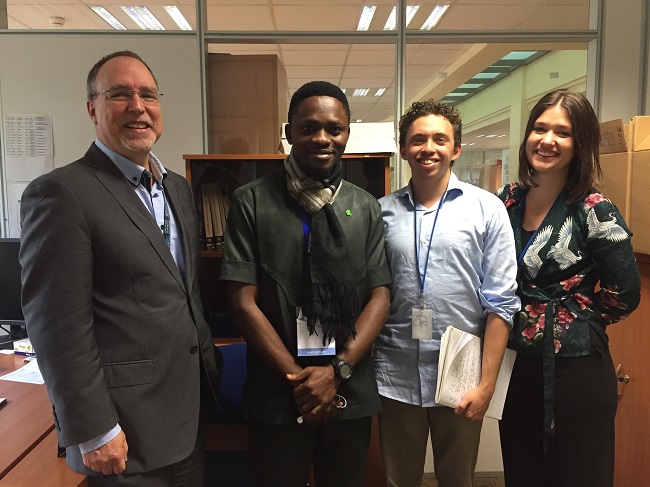 The GEO is UN Environment's flagship integrated environmental assessment published every four to five years. It is intended to report on the state of the global environment, the extent and effectiveness of existing policy responses in addressing major environmental challenges and the prospects or outlook for the environment over the foreseeable future.
Idowu, it was gathered, was selected based on his commitment towards climate actions. He was recently at the UN Environment office in Nairobi, Kenya (from August 16 to 30, 2018) to meet the officials of UN Environment for proper integration and unveiling him as the Youth Author for Global Environment Outlook.
The GEO for Youth product is produced by, and adapted for, a youth audience (from age 15 to 25). It is meant to stimulate dialogue within the youth community on environmental themes and issues, as well as to educate and provide capacity building tools to foster active youth commitment for achieving sustainable development.
Idowu will be carrying out the following assignment as the Lead Author for GEO4Youth:
Take the overall responsibility for coordinating and drafting assigned sections to given deadlines;
Actively participate in the GEO-6 communities of practice (CoP) and work closely with the secretariat staff to provide oversight of the cop content;
Provide leadership at authors meetings to deliver drafts for each section of the report;
Ensure that manuscripts are completed to a high standard, collated and delivered to the secretariat in a timely manner and conform to un environment-provided guidelines for scientific credibility;
Ensure that all review comments are dealt with according to UN Environment-provided specific guidelines;
Develop text that is scientifically and technically sound, and socio-economically relevant incorporating contributions by a wide variety of experts and in line with the main assessment;
Ensure that any crosscutting scientific or technical issues, which may involve several sections of the GEO-6 for youth are addressed in a complete and coherent manner;
Take responsibility for referring to the secretariat any scientific credibility issues, such as uncertainties and use of grey literature;
Provide oversight of educational and advocacy innovative products in support to the main assessment; and,
Identifying outreach opportunities for the GEO for Youth