The International Centre for Energy, Environment and Development (ICEED), an energy and environment solution organisation, while implementing the EU's funded "Support for Response, Recovery and Resilience in Borno State", has completed the installation of solar power systems in 12 hospitals in the state.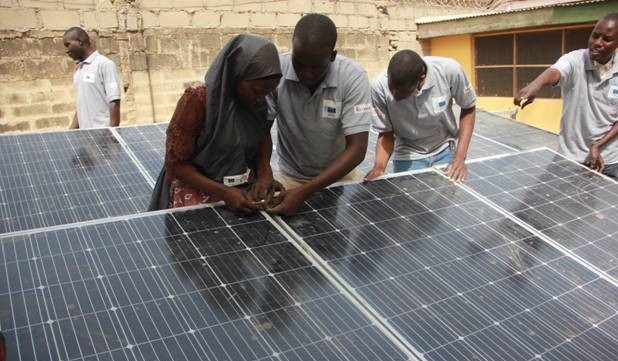 Speaking after the completion of installation at the last beneficiary hospital, General Hospital, Bama, the ICEED Maida Project Advisor, Okechukwu Ugwu, advocated for increased energy access to  critical institutions  within the conflict affected  communities,  and maintained that energy access is at the intersection  of conflict and peace in the North East.
His words: "We are happy to install this 5KVA solar system in this hospital. Just yesterday, we witnessed first-hand the pains health officials undergo to extend medical assistance to patients. A young man with a bullet shot by the insurgents was wheeled into the theatre for an operation, but there was no power supply.
"The medical doctor had to conduct the session in the dark, using phone torchlight. This was horrific and we think there should be a conscious effort at energising such critical infrastructure, which will contribute to peace-building in the conflict affected areas."
Ugwu continued: "We have done this in 12 hospitals involving seven Local Government Areas of the state.  Before commencement, our baseline assessment revealed that some of these hospitals had less than four hours daily power supply from the national grid, which was not even regular, while some did not have at all. We are excited that the lives of both mothers and children will be improved through expanded access to energy and power dependent services."
The Chief Medical Director of the Bama General Hospital, Dr Oluwaseun Ojo, expressed profound gratitude to ICEED and the European Union that funded the project for providing the much-needed solar electricity to the hospital.
He said: "This intervention that has powered the hospital's theatre and operating room, the maternity, the male ward and the medical laboratory is a great service to humanity, and we shall eternally be grateful."
The project has installed 5KVA solar system each in General Hospital Kwaya, Kwaya Kusar LGA; Wandali Primary Health Care, Wandali Kwaya Kusar LGA; General Hospital Marama, Hawul LGA; General Hospital Bama, Bama LGA; General Hospital Gwoza, Gwoza LGA; Jiddari Primary Health Care Centre, Galtimari, Jere LGA; Biu Township Primary Health Care and Dispensary, Silumthda, Biu LGA; Maternity and Child Health Care Biu LGA; Dalaram Primary Health Care, Old Maiduguri, Jere LGA; Malakyarari Primary Health Care Centre, Malakyrari, Mafa LGA; Kaleri Maternity and Child Centre, Mafa LGA; and Bama Maternity and Clinic, Bama LGA.
This project was implemented by ICEED in partnership with Mercy Corps and the Borno State Government. As part of the project, 650 homes in Bama and Gwoza are also to be electrified.