Some residents of Ibeju-Lekki in Lagos on Saturday, September 8, 2018 lamented their loss of valuables worth millions of Naira to flood from persistent rainfall since the early hours, coupled with the poor drainage facilities in the community.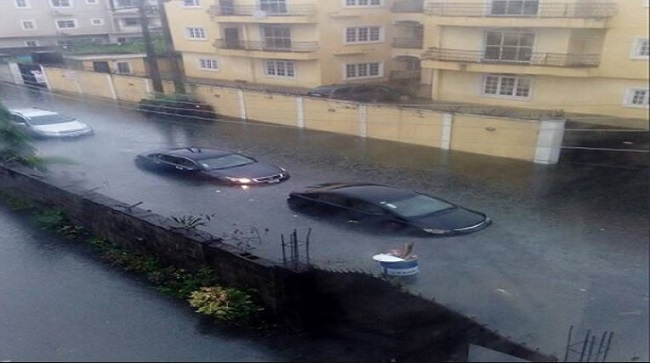 Some of the residents, in interviews with News Agency of Nigeria (NAN), said the early morning downpour left several roads and homes in the area flooded.
Mr Luqman Balogun, a member of the Community Development Association (CDA), in Ibeju-Lekki, said that it had been a long time since the community witnessed such torrential rain.
"We can neither go to the office nor stay at home comfortably now as many of our valuables are already destroyed by flood.
"I never believed we could be sacked by flood because we live in a predominantly sandy environment, due to our proximity to the ocean.
"What I have observed now is that there are no working drainage channels in Ibeju-Lekki, as we have in other parts of Lagos State,'' he said.
Balogun mentioned some of the areas affected by the flood included Kajola, Majek first-gate area, Lakowe, Eleko, Oribanwa and Awoyaya, among several others.
According to him, the flooding has affected commercial businesses in the community, including the hospitality sector.
"I am a hotel operator. We hotel owners are also complaining of low patronage due to bad roads, epileptic power supply, the absence of a functional drainage system and other issues.
"Despite all the challenges, government is still giving us estimated taxes and ridiculous bills.
"We have not been enjoying any infrastructure in this community, yet we pay our taxes and there is virtually no serious encouragement from government,'' he said.
Also, Mr Seyi Bakare, a resident, decried the poor condition of the Ibeju-Lekki Expressway.
He noted that the major road in the area had started to develop several portholes, thereby causing some traffic bottlenecks on the expressway
Bakare added that the journey from the Ajah axis to Epe/Ibeju-Lekki which ought to take about 45 minutes now lasts about an hour-and-a-half.
Another resident, Mr Lanre Solution, appealed to the Lagos State government to fix the Lekki-Epe expressway, which he said, was the major road linking Ibeju-Lekki to Epe.
He said that adequate maintenance of the road would enhance business activities in the area.
Mrs Bola Fadahunsi, another resident, lamented that the bad roads and flooding were causing a lot of damage to the vehicles of residents, costing them much more money to maintain them.
By Idris Olukoya