The Chairman, Hydroelectric Power Producing Areas Development Commission (HYPPADEC), Mr Terfa Ityav, says the commission will complete the ongoing 1.2km canal project in Makurdi, the capital of Benue State.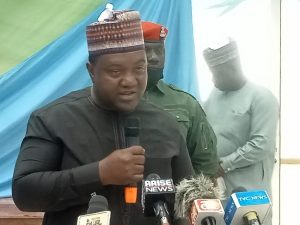 Ityav made the assertion on Monday, May 8, 2023, in Makurdi shortly after an inspection tour of HYPPADEC projects in Makurdi, Tarka and Buruku local government areas of Benue.
He said that the commission was committed towards completing the project to tackle flooding in the city.
"Work is ongoing, we shall ensure that the project is completed before the rains begin to fall heavily," he said.
The chairman stated that the comission chose to construct only one canal in each of its intervention states because of the cost implications.
He urged the public to protect HYPPADEC projects in their domains to avoid vandalism and theft.
Also speaking, the Chairman, Project Monitoring Team, Prof. Saleh Kanam, said that the essence of the canal was to tackle ecological challenges in the state.
"As a team, our task is to monitor the implementation process and ensure adherence to schedule and specification.
"We also liaise with community people to ensure smooth operations and protection of facilities," he said.
The District Head, Ikyoyia, Chief Joshua Gwa, pledged the community's committment to maintain and protect all HYPPADEC projects in the area.
He urged the commission to sustain its efforts towards improved quality of life for the people.
By Nicholas Dechi