Two more potential tropical storms were brewing in the Atlantic Ocean on Thursday, September 14, 2017, even as Hurricane Jose approaches the US.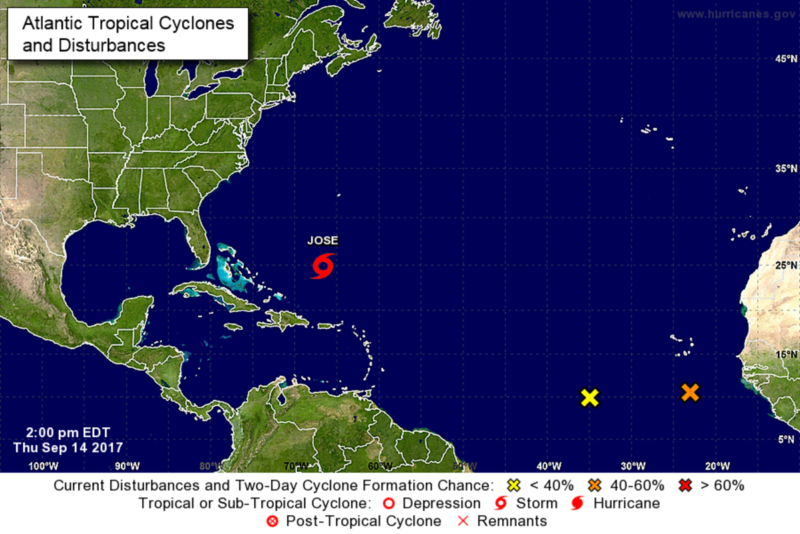 According to the National Hurricane Centre, Hurricanes Lee and Marie could materialise as, according to the body, a wave off the African coast has a 70 percent likelihood becoming one in the next five days, as does a wave to the west of it.
But, weakened to a tropical storm on Thursday morning, Hurricane Jose, coming on the heals of Irma, reportedly made very little movement during the past two days, as it continues spinning around in the open waters of the Atlantic. That leaves forecasters in a frustrating waiting game as they analyse the atmospheric conditions that will determine the long-term track of the storm – which is expected to regain strength this weekend.
During the next four days, forecasters are confident that Jose will remain far from any land as it slowly makes it way west and north on a path that will take it about halfway between Bermuda and the eastern Carolina coast by Monday night.
As of 11 a.m. Thursday, Jose weakened slightly from a minimal Category 1 hurricane, with peak winds of 75 mph, to a tropical storm, with peak winds of 70 mph. Category 1 hurricanes pack maximum sustained winds of 74 to 95 mph, while tropical storms pack maximum winds of 39 to 73 mph.
The centre of Tropical Storm Jose was about 435 miles east-northeast of the southeastern Bahamas and 520 miles south-southwest of Bermuda, the National Hurircane Centre reported. The storm was moving north-northwest at a pace of 7 mph, still slow but slightly faster than its early morning pace of 3 mph.
"Some restrengthening is forecast to begin on Friday, and Jose will likely become a hurricane again by the weekend," the National Hurricane Centre said in its 11 a.m. advisory. As of now, tropical-storm-force winds extend up to 115 miles from Jose's centre.