Irrigation specialists from across Africa on Thursday, March 28, 2019 converged on the International Institute of Tropical Agriculture (IITA) in Ibadan, Oyo State, to discuss irrigation management issues and ways to improve its practices in Africa.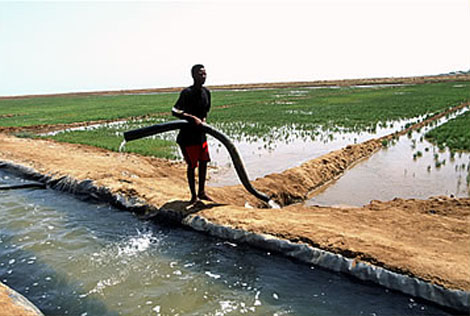 The symposium, titled: "Irrigation and Water Resources Management (IWRM), for agriculture: achieving impact for Africa", was organised by University of QueensLand (UQ) Australia and funded by the Australian government.
The IWRM course leader, Dr Gunnar Kirchhof, said that the IWRM course delivered by UQ in Australia exposed African irrigation practitioners to state of the art world leading irrigation practices in Australia.
Gunnar said that the Kenya programme linked Australian and African practices to promote the adoption of irrigation practices that were economically sound and environmentally sustainable to enhance food security in Africa.
"Due to the similarities among Australian, Kenyan many African agro-ecological environments, Australia is in an excellent position to work with African irrigation professionals to achieve food security through efficient, sustainable irrigation systems.
"This event brought together IWRM experts academics, practitioners to inform leading international, national government, non-government organisations throughout West Africa on actions required to foster the adoption of best practices in IWRM.
"The symposium will make recommendations on required agriculture research, development and extension activities for irrigation practices in West Africa," he said.
According to him, it will focus on empowering women, youths in decision making for irrigated crop management, enabling end-user access to irrigation technology and enhancing sustainable water management practices through knowledge transfer.
Gunnar said that the primary objective of IWRM programme was to provide African scholars with an enhanced knowledge of irrigation, water resource management practice and principles.
Vice Chancellor of Bowen University, Iwo, Prof. Joshua Ogunwole, said that the governments of sub-Saharan Africa should put irrigation agriculture and agricultural water management on its food security agenda.
Ogunwole underscored the need for the continent to focus more on improving irrigation and agricultural water management to attain a food secured Africa.
"There is need to promote water-shed approach to land, water and biomass management," he said.
By Chidinma Ewunonu-Aluko