Every year, the Nigerian government budgets billions of naira on constituency projects, yet there seems to be very little to show for the improvement of public service delivery.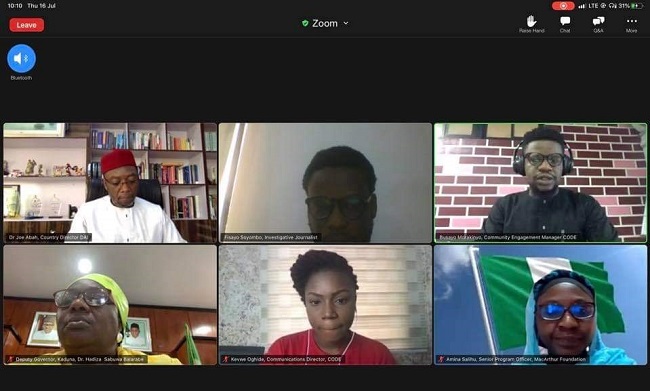 A large portion of the budget (which funds sectors like healthcare, education, and youth employment, among others) is believed to be syphoned by corrupt government officials, creating a huge trust gap, and leading to citizens apathy.
The situation has prompted a new look at the role of trust, as well as its relationship with governance and ways of restoring and rebuilding trust in different contexts.
This scenario apparently spurred Abuja-based social accountability organisation, Connected Development (CODE), to hold a virtual conference themed "Rebuilding Trust in Public Institutions" on Thursday, July 16, 2020, focusing on how public trust can be restored in government institutions.
Moderated by Kewve Oghide, CODE's Communications Lead, the webinar featured speakers like Dr. Hadiza Balarabe (Deputy Governor of Kaduna State), Dr. Amina Salihu (Senior Programme Officer, MacArthur Foundation), Dr. Joe Abba (Board Member, Ministry of Finance), Mr Fisayo Soyombo (Investigative Journalist) and Mallam Hamzat Lawal (CODE's Chief Executive).
On the role of government, Dr Balarabe stated that the issue of trust in public institutions is not peculiar to Nigeria alone as many countries around the world are also under pressure to meet rising citizens expectations.
She however stated that the Kaduna State Government has rebuilt trust by providing functioning primary healthcare centres, laying-off incompetent teachers and revamping the education system. She noted that signing up with the Open Government Partnership has also fostered the state's culture of transparency and accountability.
Dr Balarabe noted that trust has been rebuilt because young people are at the fore-front of industrialisation in Kaduna State and they have been delivering enormously for the state. She added that because of the level of trust built, Kaduna has attracted over $500,000 in investment.
"Kaduna also publishes her annual audit report yearly, and organises town hall meetings to get feedback from the people. We will continue to restore confidence and rebuild this trust in our people by committing to being reliable, responsive, transparent and having better regulations," she said.
On the role of civil society, Dr Salihu noted that trust is earned because of being accountable, responsive and capable. She noted that civil society organisations are strategic pathfinders who need to enable citizens to recognise their right to access basic needs and improved public services and how they can use their voice and actions to drive change.
On the role of citizenry, she stressed that citizens could do this by not being cynical when actual progress is being made, paying attention to politics, participating, rejigging the federalism, and changing the electoral system.
"We need to give a lot more chances to women and expand the space to change how government is structured," Salihu added.
On the role of citizens and related issues, Dr Abah traced the decline in trust to issues like the current corruption allegations by officials of the Niger Delta Development Commission (NDDC) for "allegedly awarding billions to themselves in so-called COVID-19 palliatives. Such a development will continue to dispel public trust".
He opined that the leaders must take the initiative, rise to the occasion of responsibility, and show examples for people to start believing in the system. He stressed the need for public officials to openly declare their assets.
He described the act of government constantly going against its laws and policies as a breach of trust.
"For example; the recovered funds from the Abacha loot were shared without a clear identification database where citizens can see how it was being shared. What is worse is that it was shared in cash which goes against the government's rules on cashless banking,"
On the role of the citizens in building trust, Abah said: "You can only rebuild trust by trusting, it is important for citizens to hold the government accountable and monitor them. Even if you do not trust the government, we need to continue to engage and put in mechanisms to make it difficult for people to breach trust."
On the role of the media, Mr Soyombo stressed that although the media has a huge responsibility to play, the government has the bulk of the job. He added that people who want trust must have to earn it.
His words: "Most of the things that we consume as news are actually PR. This shows that journalists are being manipulated especially because they are not well paid. Government must be responsible for providing better governance, the media must ensure that public institutions are not deceiving citizens by engaging more investigative reporting."
While stressing the need for more investigative reporting, he called on the public to support good journalism especially with funding. "If we want a media that is more alive, people have to support good journalism," he said.
While encouraging journalists to be objective in their reports, Soyombo called for values reorientation in the country.
Head of CODE, Mallam Lawal, disclosed that the organistation's strategy is to create platforms for informed debate between public institutions and citizens and also advocate for more government agencies to leverage digital communications to foster trust, increase transparency and ensure better accountability.
"This has led us to organise this conference that seeks to increase conversations and raise citizens and government's consciousness towards rebuilding trust," he said.