A new report released on Thursday, June 9, 2022, by the Institute for Strategic Dialogue (ISD) and the 20+ member coalition Climate Action Against Disinformation (CAAD) documents the extent and diverse nature of climate disinformation around last year's international climate conference in Glasgow, COP26.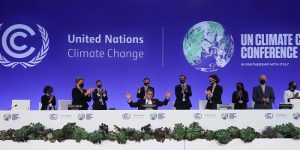 The report, believed to be the most comprehensive of its type to date, offers seven key policy recommendations to stop disinformation from jeopardising future climate action and policymaking, such as the UN's next climate summit set to take place in Egypt this November.
The report is the result of an unprecedented effort to monitor and respond to climate disinformation at a COP event and beyond. Analysts from ISD and eight partner organisations found that strategies enacted by Big Tech companies and media organisations were ineffective in combating viral disinformation and systems remain overwhelmed by green-washing advertising and other high-traction denials.
Across social media, high-traction disinformation was found to originate primarily from a select number of pundits and political actors, who merge climate and "Culture Wars" narratives to violate multiple content moderation policies in tandem. Twitter carried the falsest content by volume, while Facebook's algorithm drove greater exposure to climate disinformation than its own Climate Science Centre, and its fact-checking policies remain woefully under-enforced.
"Our analysis has shown that climate disinformation has become more complex, evolving from outright denial into identifiable 'Discourses of Delay' to exploit the gap between buy-in and action," said Jennie King, Head of Climate Disinformation at the Institute for Strategic Dialogue.
"Governments and social media platforms must learn the new strategies at play and understand that disinformation in the climate realm has increasing crossover with other harms, including electoral integrity, public health, hate speech and conspiracy theories. We've proposed seven concrete measures they can take to thwart the prominence and impact of this content, in order to build public mandates based on credible science and good-faith debate."
Based on the narratives and tactics identified by CAAD's bespoke monitoring system, the coalition recommends that policymakers formally recognise the threat, adopt a universal definition of climate disinformation and limit loopholes for traditional media outlets in tech regulation such as the EU's Digital Services Act – all of which will help mitigate the risk that false or misleading content hinders climate negotiations and legislative agendas at this critical juncture.
A member of the European Parliament, Gwendoline Delbos-Corfield, praised the report as "a timely and important exploration of the state of play on climate disinformation," stating that ISD and CASM Technology's "ground-breaking dashboard gave us new, worrying insights about the extent to which malicious actors go to distort and discredit climate science".
MEP Delbos-Cornfield, who also sits on the INGE2 Special Committee responsible for mitigating disinformation threats in the European Union, added: "This shows that far from addressing the problem, Facebook platforms are amplifying the voices of a small community of actors spreading climate disinformation. We must do more to address climate disinformation at the European level. If urgent steps are not taken to tackle climate disinformation head-on, our collective work towards reaching the climate goals is at risk of being undermined."
The report also identifies concrete actions that should be taken by Big Tech to improve its systematic approach to preventing climate disinformation:
Improve transparency and data access to quantify disinformation trends at scale
Adopt a definition of climate disinformation in Community Guidelines or Terms of Service
Restrict misleading fossil fuel advocacy in paid advertising and sponsored content
Enforce or introduce policies against repeat offenders spreading disinformation on their products and services
Better label old or misleading content to prevent re-circulation of disinformation
Enable image-based searches via APIs to better track viral disinformation in meme, video and image format.
These policy guidelines are each based on a body of evidence generated over the past 18 months, especially during and in the aftermath of COP26. The report offers exhaustive examples of who is spreading which kinds of disinformation across various online spaces and for what types of audiences.
"We will not be able to stop climate change if all conversations are flooded with disinformation," said Michael Khoo, co-chair of the Climate Disinformation Coalition at Friends of the Earth U.S., who provided US expertise in partnership with CAAD.
"Governments must require social media companies to be transparent and accountable about the harms their products create, as they do with every other industry from airlines to cars to food processing. We should not continue this endless game of climate denial whack-a-mole."
CAAD is calling on the IPCC, UN, EU and other science bodies, social media companies and policymakers to address climate disinformation with concrete steps ahead of the COP27 negotiations.
Courtesy: PAMACC News Agency