In 1960 when Nigeria became independent, there were about 40 percent forest landmass that spreads across the length and breadth of the nation's rain forest. But, over the years, these have continued to deplete due to numerous factors such that, currently, less than two percent forest land mass remains. Succour is however emerging, thanks to some individuals and private bodies, who have taken up an afforestation campaign to boost the nation's forest cover, green the environment and mitigate the impact of climate change. Kayode Aboyeji, who recently visited some of the initiatives, stresses in this report that, in the near future, some of these emerging forests may qualify as project sites under the United Nations (UN) Reducing Emissions from Deforestation and forest Degradation (REDD) programme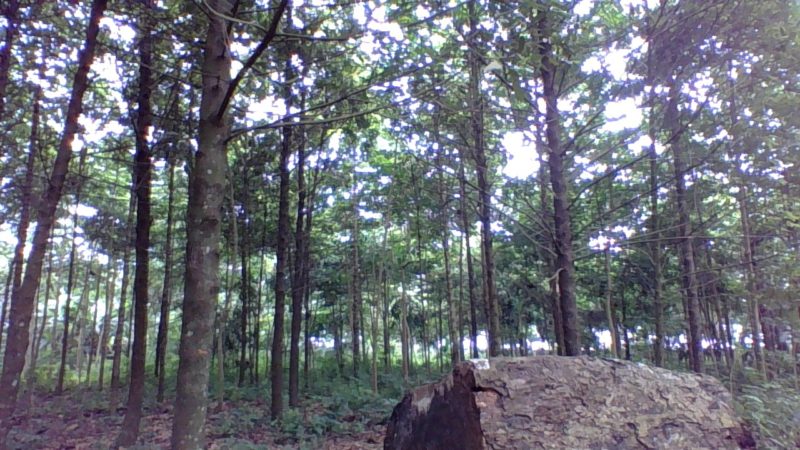 Trees are essential to life; they produce oxygen without which man cannot exist. Trees control noise pollution, slow storm water runoff and serve as carbon sinks. Besides, trees clean the air, serve as wind breaker and curb soil erosion among other relevant purposes it serves to mankind.
Unfortunately, due to infrastructural development, population explosion, illegal and indiscriminate timber and non-timber product harvesting, agricultural expansion into the forest reserves and lack of compliance with and enforcement of forest laws, forest reserves have been depleted while the remaining surviving trees have become endangered species in Nigeria.
Over the years, government has supplied seedlings for tree planting, but there are no forests to show for the intervention.
Despite the involvement of the World Bank, African Development Bank Afforestation projects in the 1960s and the 1970s and the Western Nigeria Forest of 1968 headed by the Emeritus Professor Akin Mabogunje, the nation still seems worst off and struggling to find viable project sites for REDD or earn carbon credit.
But it appears all hope is not lost, thanks to initiatives spearheaded by individuals and private bodies, who are investing in massive tree planting and creating new forest zones.
The Evergreen Tree Plantation
The Evergreen Tree Plantation – a teak (Tectona grandis) plantation – is located in Ijari, Ijebu North East Local Government Area of Ogun State. The Evergreen Tree Planters, a non-governmental organisation, was established in 1984 and is focused on planting trees for industrial prosperity and environmental sustainability is one of Nigeria foremost tree planters.
It has been able, through its aggressive tree planting programmes, to acquire and plant well over two million trees. It has been able to established plantations of 27 exotic and indigenous trees species that spreads across the state. These are Tectona grandis (teak), Khaya spp. (mahogany), Nauclea diderrichi (Opepe), Milicia excels (Iroko), Afzelia spp (Apa), Cedrella odorata (Cedrella), Mansonia altissima (Mansonia) and Cordia milleni (Omo) trees.
Bisi Rodipe, founder of Evergreen Tree Planters, is a lover of nature. At 75, he is still planting trees.
He said, "I have visited and attended several forest and forest products trade fair, conferences and workshops, hence my strong belief of the popular and ancient saying 'Agbe L'Oba', meaning farmers are kings. This I have practiced and proved in my 30 years' experience in tree planting."
Rodipe disclosed that the group is now exploring indigenous tree timber species that are near extinction which are priced in the timber market both locally and internationally.
He called on investors to join in the vanguard of tree planters towards a sustainable and economic development.
Rodipe, while charging other investors said, "Had I known 30 years ago when I planted my first mahogany trees (Khaya senegalensis) to establish a plantation of at least 500 hectares, at my present age of 75 years, I would have been spending most of my time relaxing at the Miami Beach in Florida, the United States of America.
"This is a wake-up call once again to all well meaning individual and groups to see this plantation as a means to invest in the future for you and generations yet unborn," he said.
Labo Plantation
The Labo Plantation was established in 2011 by a Professor of Forest Economics and Sustainable Development at the University of Ibadan, Labo Popoola.
The plantation, part of a farmland that operate at Olowosoke village, Surulere Local Government Area of Oyo State, Nigeria has a total size of 13 acres – approximately 5.2 hectares – of Tectona grandis (Teak). It forms part of the original 50-acre integrated farm enterprise comprising arable crops, oil palm and livestock.
Prof. Popoola, when asked on what informed the decision to establish the plantation said, "I enjoy farming, and I am a trained forester. I have helped individuals and corporate organisations to raise plantations, and I just felt that I should also lead by practical example, hence my decision to establish the plantation as part of my farming enterprise. It is a self-financed enterprise. No external financing yet."
On future plans for the plantation, he added, "Together with some friends, we now have a total holding of about 150 acres. We desire to extend the plantation, particularly using trees to secure the boundary of our land.
On forest management in Nigeria, he maintained, "The forest sector is beset with quite a number of challenges in Nigeria. Key among these is paucity of data for proper management, obsolete policies and laws, poor financing and corruption. The characteristics of the resource as a long gestation enterprise may also pose some challenge.
"Also critical are ownership of resources, including policies and legislation that define ownership, the social and economic conditions of the owners and more importantly their entrepreneurial ability (including the ability to understand the changing opportunities and to move up the value chain); and the nature of markets served. These interact with each other, altering the opportunities and constraints in capturing the different values from the forests. Also, there are virtually no incentive structures for private forestry. Regardless, individuals and corporate organisations are increasingly embarking on private forestry," he said.
The Professor of Forest Economics and Sustainable Development, who highlighted the relevance of forestry to biodiversity, stated that within six years of establishment, the plantation is already closing canopy. "We now have a number of wild animals inhabiting the area. We are also considering embarking on apiary in the plantation," he disclosed.
On the importance of forestry, he noted, "There are so many advantages in forest plantation establishment. Broadly, the benefits are socio-economic, cultural, environmental and even spiritual. With the dwindling resources in the public sector, private forestry becomes an imperative. It is therefore important that governments at all tiers should create incentive structures that will encourage the involvement of the private sector to enhance sustainable forest management."
The LUFASI Park    
The Lekki Urban Forest Animal Sanctuary Initiative (LUFASI) is another private afforestation programme in Nigeria. The green expanse hosts 20 hectares of play and relaxation parks, animal sanctuary, fern gardens, forest and some of the last remaining populations of the highly endangered Ekki 'iron wood' tree, the threatened hooded vulture and lesser hornbill.
According to the Director of LUFASI and renowned environmentalist – Desmond Majekodunmi, "Humans have gone too far down the path of environmental destruction and this goes against our essence as stewards of the Earth." This essence is reflected in LUFASI Nature Park's direct response to the pertinent issue of climate change. Most importantly, the park serves as a living laboratory for agricultural, ecological, environmental and veterinary education in Nigeria.
Obasanjo Farms
Former President of Nigeria, Chief Olusegun Obasanjo, who is a renowned farmer. is also engaging in tree plantation. Presently, he has large expanse of teak tree plantations in Iseyin Road, Oke area of Oyo State.
The Iseyin farms consists of over a million teak trees planted in well arranged order and provides job opportunity to villagers in the community.
Besides the Iseyin farm, the former president also has about 250 hectares at Ajoda, in Ogun State where teak trees are planted. He is also said to have large expanse of teak farm in Bayelsa State, South-South Nigeria.
Stakeholders' response
Commenting on these initiatives, National Coordinator of Climate Change Network-Nigeria (CCN-Nigeria), Surveyor Efik, said such efforts are worth commending, adding that that is what the global campaign is all about. That the business sector should participate in afforestation programmes.
Said he, "I will also want them to work with the Federal Ministry of Environment and register it under the Clean Development Mechanism (CDM) project so that they can earn carbon credit.
"It is actually good that private individuals are into afforestation in Nigeria. This will boost afforestation programme in the country and the Nationally Determined Contribution (NDC) submitted during the Paris Agreement.
"I want more Nigerian investors to go into afforestation programme," he added.
Climate change scientist, Prof. Olukayode Oladipo, said it is a good thing that private individuals are going into afforestation.
He noted that government alone cannot reverse the years of massive deforestation that the country has experience, therefore the private sector has to come in to support the government in afforestation programme.
Recently, President Muhammadu Buhari, declared that his administration is poised to unroll greater-than-expected measures to keep the country green.
Buhari made this statement during the launching of the 'Keep Kaduna Green Project in Kaduna.
The president represented by Amina Muhammed, Minister of Environment, revealed that Nigeria had the highest rate of deforestation in the world.
"Environment is one of the six core pillars of this economy, thus underscoring the importance to the Change Agenda. The initiative in Kaduna State today is a clear example of state government contributing to the environment component of our economy.
"It is on record that the rate of deforestation is about 3.5 per cent per annum. The implication of this is that about 350,000 to 400,000 hectares of forest, equivalent to 576 million trees are lost annually.
"The environmental challenges that come with this include desertification, erosion, flooding and reduction in perspiration and contribution to drought, all this bringing untold hardship on communities and the environment."
The president said the initiative further underscores the importance of taking climate action and creating jobs for the teeming youths.