The Nigerian pavilion at COP24 has positively impacted Nigeria's image and performance at the ongoing UN climate change summit in Katowice, Poland.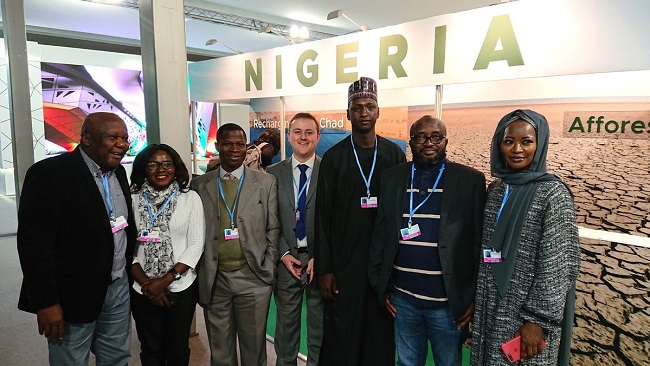 Director, Department of Climate Change in the Federal Ministry of Environment, Dr Peter Tarfa, who made the submission on Wednesday, December 12, 2018, said the facility gave the nation the stage to show the world what it has been doing in terms of climate action.
"It has impacted our performance at the COP24 in Katowice very, very positively because it has given us a platform to come a showcase what we have been doing back home," he said, adding that Mr President even visited the place and expressed his approval and commendation.
"There was never a time that any president of Nigeria since the start of the COPs ever visited the Nigerian pavilion. But President Muhammadu Buhari made history when he did so last week. He came here. He looked at all the signs here especially the 'Deforestation' sign and asked: 'Do we still have forests?' It shows how passionate he is towards issues related to the environment and climate change," said Dr Tarfa.
The pavilion has in COP24 played host to several programmes organised by organisations such as the Federal Ministry of Environment (NEWMAP: Supporting Nigeria's climate change response agenda and the Paris Agreement), Nigeria National Petroleum Corporation (Addressing climate change in the Nigerian oil & gas sector), Federal Ministry of Water Resources (Outcomes of international conference on Lake Chad), Anambra State Government (Mainstreaming climate disaster loss and damage solutions to sustainable development in Anambra State of Nigeria), Ministry of Niger Delta Affairs (Addressing the environmental and climate change impacts in the Niger Delta Region of Nigeria), National Green Campus Initiative, Climate and Clean Air Coalition(Nigeria national action to reduce short-lived climate pollutants: Delivering multiple benefits for clean air and climate), Women Environmental Programme (Using climate change capacity building to transform community people's behavioral and adoption of climate smart practices), Green Bonds (Green Bonds: Making Articles 2 and 6 a reality), Kaduna State Government (Building resilience against climate-induced displacement) and the Nigeria Meteorological Agency (NiMet at a glance: Synopsis on climate change mitigation and adaptation strategies in Nigeria).
Others include Global Eco Strategies Limited (Blockchain technology financing for clean energy Nigeria), OSSAP-SDGs, United Nations Development Programme *Achieving the SDGs through climate action), National Assembly (Role of the Nigerian Parliament in the implementation of the Paris Agreement), Nigeria Incentive-Based Risk Sharing System for Agricultural Lending (De-risking and catalysing finance and investments across climate smart agricultural value chains), Federal Capital Territory Authority (Resilient infrastructure development in FCT: Key to enhancing Nigeria's NDC implementation), Nigerian Conservation Foundation (Delivering national climate action and sustainable development goals through re-greening Nigeria), African Centre for Agriculture and Social Inclusion (Smallholder youths and gender action in climate change impact – Jigawa State of Nigeria in view), Nigeria REDD+ Programme (Developing a finance strategy for incentivising and implementing REDD+ activities, and opportunities for public-private partnerships), Infintum Global Projects (Catalysing carbon neutral and carbon negative through infrastructural development in developing nations), and Ecologistics Integrated Services Limited (National preparation for conference of parties for developing nations).