Mr. Sean Melbourne is the Head of Climate Change & Energy West Africa at the British High Commission in Abuja, Nigeria's capital. In this interview with Etta Michael Bisong, he sheds some light on trending issues around climate change especially how Nigeria can best transit into a cleaner and sustainable economy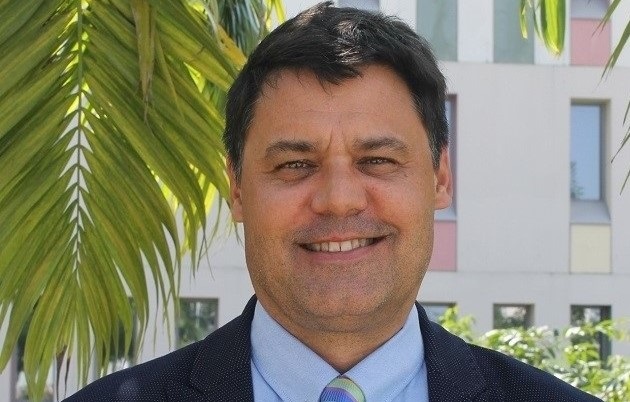 What is your take on Nigeria's NDC?
I see the Nationally Determined Contributions (NDCs) as an opportunity to seek charge for climate action to boost cleaner and sustainable economic growth in Nigeria.
It is also an opportunity to increase Nigeria's resilience to the impact of climate change.
The evidence from around the world suggests that a switch to renewable low carbon development creates more jobs than it destroys. I understand that Nigeria's NDC include waste and water for the first time and we certainly welcome that.
Frankly speaking, energy is important to sustainable economic development. Nigeria does have the largest electricity access deficit globally and tackling that issue is of critical importance and I think the Nigeria government, businesses and civil society groups would agree that clean, secured and affordable energy is important.
How do we address stakeholders' concerns in the NDC?
I actually sort of disagree; I think there have been a genuine engagement and widespread consultation on the side of the government and also engaged pretty extensively on the new gender climate action plan.
So, all governments must always need to do more to consolidate their citizens, businesses and academics. I think they have been a genuine effort to capture the views of non-governmental organisations in the NDC.
How can the government harmonise policies among MDAs to foster climate action?
All governments across must absolutely battle climate change if we must make progress. And not only across government, but also engaged with businesses and civil society too. Coordination would always be a challenge not only in Nigeria but in many other countries.
So, I think it is important to mainstream climate and environmental considerations into national policy making and if you do that then you are going to be much more affected in getting that clean and resilience economy and more jobs that we want to see.
How can the government invest in adaptive mechanisms to help Nigerians build climate resilience?
Government really needs to channel more investment into energy, power, water and agriculture. That itself is not enough. What governments can really do to add value is to provide that framework for private investment and also mainstream climate and environmental considerations into policy making.
One of the things we want to see at COP26 is to ensure that more international finance goes into adaptation as mitigation. So, roughly 50/50 split, because international climate finance generally underpins everything else that we want to see.
It is important for that investment. I hope COP26; by the time we get there we do see that necessary investment into adaptation. And Nigeria and Africa is quite right to focus on that.
What is your position on how best to mobilise young people to achieve the climate objective?
One of the most encouraging things about my time in Nigeria so far is that I see these engagements by young people. Young people, women and children are more likely than men to die from climate related disasters.
It is absolutely vital that young people get engaged. And they are getting engaged, and I find that super encouraging. So, again I hope civil society organisations and young people would be important at COP26.
My message would be if you can get engaged in environmental activities, be that in recycling or tree planting initiative. Do that, because everybody needs to be plying that part especially young people.
How can Nigeria solve climate change problems in the face of poverty?
Poverty and insecurity are inhibitors of climate action. Fights and conflicts over natural resources are inhibitors to climate action. But, climate action can also help reduce conflicts if you flip it on its head. The proper and equitable management of water resources can reduce tension, boost meaningful economic production, as well as create jobs.
So, a clean green recovery shouldn't be seen as a curse, it should be seen as an investment. It would also help reduce the insecurity that we see in some parts of the country.
What is the British government doing to help Nigeria solve climate change issues?
We had the Nigeria for Nature Campaign which just closed and I hope we can keep it going. This campaign is working closely with a number of CSOs supporting tree planning and recycling initiatives here in Nigeria. I think I am right in saying that eight thousand trees in the end were planted. It is example of young people and women getting involved in climate action.
We also got a new programme called the UK Path and this will help Nigeria with mitigation efforts and in fact support the actions that we need to happen.
Finally, we are also supporting a climate financial adviser in the Ministries of Environment, Finance, and NDC facilitator too. So, the climate finance adviser, his job is to try and get that international climate finance and make sure it is working in Nigeria and that it is channeled to low carbon renewable projects.
Climate finance underpins every other thing we need to do in Nigeria to effectively address climate change.
Why is the UK government so excited about COP26 and how do they intend to use it to solve the climate crisis globally?
It is not just one of the biggest public events that are going to be ever hosted by the UK; COP26 is going to be the largest public event that the UK government is going to be hosting. And the UK host lots of events as you may appreciate, so it is really important. Tackling climate change is a top priority for the UK government along with recovery from COVID-19 pandemic.
We want to host an inclusive and all of society COP26, channeling innovations and commitment of every citizens, investors, businesses, cities, and countries. We need to move the global economy to net zero and demonstrate that a low carbon transition can be just, fair and works for everyone. That is my overall message for COP26.
How do you describe the climate struggle in Nigeria and what would you like to see changed?
I really welcome the engagement we have had particularly with the Ministry of Environment, but also other Ministries, and also at state level where many of the decisions are taken. So, engagement at state level is really important.
I come around again to my personal observation of the activities of CSOs, young people and increasingly women as well. We need everybody to tackle climate change if we are going to be successful. What the Nigeria government is doing is an outreach to young people and CSOs to continue and ideally intensify climate action.
What is the role that the British government is playing to improve public education on climate change in the country?
There is a key dialogue that took place recently – called the Petersberg Climate Dialogue. And the UK Prime Minister said something very important which is that we need to move from words to deeds to real implementation of climate action.
The awareness is there now and for some countries climate change is a threat to their survival. So, we really do need to move from words indeed to implementation. I think climate finance and a good strategy can help.
What is Nigeria's long term climate strategy? We need to get it right and show some real ambition in that strategy.
What are your pre-COP26 activities ahead of this landmark event?
We will do a media event in July as part of our COP26 outreach. Of course the COP26 President Alok Sharma and the UK's international champions on adaptation and resilience have all been to Nigeria. Nigeria is one of the first countries they went to because Nigeria really matters when it come to tackling climate change.
If you look at the strength of its economy and growing population, influence in regional and continental and international fora, which is why they all came here to engage Nigeria and form partnership to do things together so we can act on mitigation, adaptation and climate finance.
What are the things you would like to see change in Nigeria's climate strategy to ensure a sustainable future?
Unfortunately, there is no silver bullet to climate change; I think it is quite clear that there must be a global economic transformation.
And also more focus on nature based solutions and the narrative has changed. It use to be climate, but now it is about climate change and biodiversity, protecting nature because it provides humanity with a lot of resources and means of living. So, we must protect nature.
I think the other thing that we can all do and some countries are doing it already is that we need climate change and environment in every single school curriculum around the world because young people are our future and I think if we have that in our curriculum, we got a great basis for a better future.
What is the future of sustainability going forward?
Global political economic considerations could impact the radical changes that we all need to see, to have a truly sustainable economy and future. I am optimistic as long as governments work with the private sector and civil society. We are all moving as one to tackle climate change and of course after COP26, we have an Africa COP27 and I will like COP26 to be the molding block for a successful African COP next year.