Concerned stakeholders who converged on Abuja on Monday, March 23, 2020 at a daylong forum explored the practicality of litigation as an effective tool to promote biosafety and curb the unchecked use of genetically modified (GM) products in Nigeria.
Speaking at a panel discussion session on the Legal Framework on Biosafety in Nigeria, a lawyer and anti-GMO campaigner, Ifeanyi Nwankwere, explained that an effective way to address GMO use in Nigeria is to revisit the Act that permits the use of GMOs in Nigeria.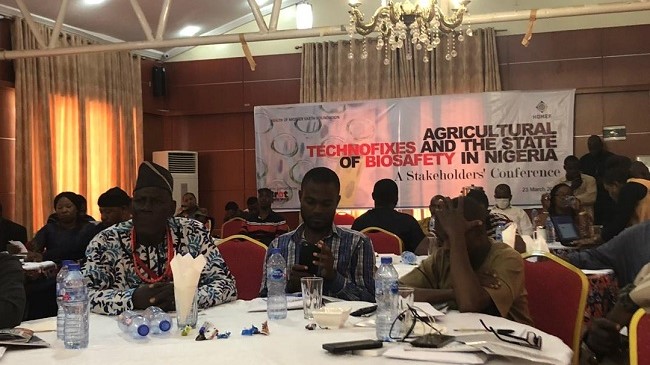 Ifeanyi suggested that, as a first step, the promoters of GMOs must be removed from the boards of biosafety regulatory agencies, else most of Nigeria's biosafety legal documents would remain ineffective.
Along the same line, another panellist, Gloria Okon, clamoured proper needs assessment and adequate information as the most effective bottom-up approaches to ensure biosafety in Nigeria.
"What farmers requires today are needs assessment that engages them and put them at the centre of the biosafety decision-making processes," she said.
"It will be discovered that good roads and setting up appropriate storage infrastructures are what farmers need from the government. That way, ignorant farmers will not fall prey to selfish business interests by international companies trying to enforce the use of GMOS in Nigeria," Okon added.
The conference was organised by the Health of Mother Earth Foundation (HOMEF), an environmental/ecological think tank and advocacy organisation focused on climate justice and food sovereignty in Nigeria and Africa at large.
By 'Seyifunmi Adebote