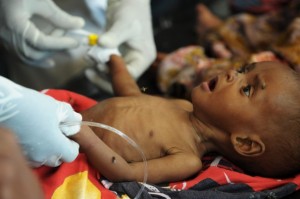 Activities of smugglers who bring in staple foods into the country have continued to hampers government's effort at reducing malnutrition among Nigerians.
Head of Nutrition, Federal Ministries of Health, Dr Chris Isokponwu, stated this recently during a media workshop organised by Nestlé on Creating Shared Value held in Lagos.
Dr Isokponwu submitted that, among efforts towards ensuring basic food produced in the country contain the right nutrients, smugglers activities continue to pose a challenge to eradicating malnutrition in the country.
"When basic foods such as salt, vegetable oil and sugar are smuggled through our borders, we can't vouch that such goods contain the needed nutrients like iodine and Vitamin A required for body growth and development. There has been increasing awareness among food producing companies to introduce iodine and Vitamin A as supplement nutrients in their production. That is why when you look at the packaging materials of products in the markets, you see inscriptions and logos such as vitamin A or iodine fortified. These nutrients are important in the body and especially for children."
He said that Nigeria is the first country in Africa to obtain the universal salt iodization certification in 2005 but there has however been a decline to 53 per cent presently.
He pointed out that efforts made by the government to reduce under-nutrition include mandatory fortification of staples with vitamin A, Bio-fortification of cassava and maize with vitamin A.
President of the Nutrition Society of Nigeria, Professor Ngozi Nnam, while speaking on the role of nutrition and right feeding in the first 1,000 days of a child's life, noted that the nutritional composition of a child in this critical period of formation determines her/her health status in the long run.
"Stunting, underweight, kwashiorkor are all signals of acute malnutrition. In Nigeria, malnutrition is an underlying cause of more than 54 per cent of child deaths. When a child is not properly fed with the right nutrients in the first 1,000 days, it affects the body and brain development of that child. From research, poor nutrition of a child affects the nation's development because when the brain of a child is not properly developed the child ends up with a low I.Q. In the future, the child won't be able to contribute mentally to the development of the country," she concluded.
Reports have it that the North Eastern and Western parts of the country have the highest number of malnourished children with 42 per cent and 54.8 per cent respectively.
Seasoned science journalist, Diran Onifade, in a lecture titled "Effective approach to reporting water issues", urged journalists to report water issues with the focus of the people in mind.
"Water is a key necessity of life and many Nigerians can barely access clean water for household use. When people lack water, it has a ripple effect as their health is affected, and sickness and diseases are imminent. Let your stories portray the challenges and plight of how an ordinary Nigerian struggles to get water. Government has always committed to provide water for the people but do people actually have access to water?" he demanded.
By Tina Armstrong-Ogbonna