Bothered by the incessant collapse of buildings in the bustling city of Lagos in Nigeria, town planner and planning advocate, Yacoob Abiodun, who resides in Parkview Estate in Ikoyi, explores the challenges facing physical planning and urban development in the state, and proffers a solution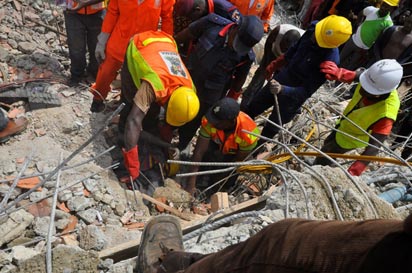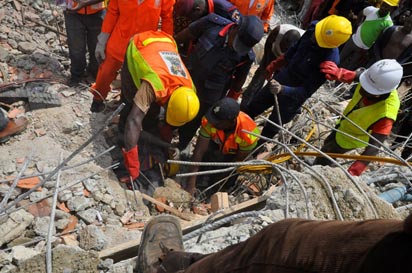 March 8, 2016 is a date most residents of Lagos cannot forget in a hurry. They woke up to the sad news of the collapse of a five-storey building under construction on Kusenla Road, Ikate-Elegushi in Lekki Phase I area of Lagos Mega City, which caused the death of 34 people and over 100 others severely wounded. Lekki Gardens was identified as the developer of the building.
Reports from the dailies sequel to the unfortunate incident attributed varying degree of causes responsible for the collapse of the building which, inter alia, include: over building (from three to five floors) by the developer contrary to the building plan initially approved for the company by the Lagos State Planning Permit Authority, lack of proper supervision by officials of the Lagos State Building Control Agency (LASBCA), hasty development of the building without recourse to laid down construction procedure, inexperience workers and recalcitrant developer who would not comply with extant planning laws of Lagos State.
In a nutshell, we have a situation of criminal neglect of responsibility by State officials who should have nipped the disaster in the bud and prevent it from occurring, having realised that the developer was not law-compliant. The next culprits are the officials of Lekki Gardens who acted above the law to the detriment of the lives of 34 innocent people who died at the site of the collapsed building. Another system failure is the neglect of enforcing the law as and when it is absolutely necessary.
Without mincing words, the causes of frequent building collapse are many and are interwoven. Meaning: you cannot address one and leave the other unaddressed. It is therefore in the best interest of the Lagos State Government (LASG) to approach the issue of building collapse with an open mind (my emphasis). The government should listen to the numerous suggestions from a gamut of professionals in the built environment (builders, architects, town planners, structural engineers, environmentalists and allied professionals) to guide its final decision on how to curb the menace. As they say, two heads are better than one, while nobody has a monopoly of knowledge. The array of commentaries in the dailies after the incident lends credence to this school of thought.
This article will focus on physical planning aspect which could be partially responsible for building collapse often caused by human error, neglect of responsibility or corruption. We shall also probe into the issues of urban development in the Lagos Mega City region, which require fine- tuning as part of effort to curb incessant building collapse in the state.
Periscope on physical planning in Lagos
To all discerning minds, especially among the professionals in the built environment, particularly Town Planners, one can rightly critique that physical planning in Lagos has many deviations from established standard in terms of planning rules and regulations, compliance and enforcement of extant laws, promotion of urban aesthetics, conducive land use, zoning, proper monitoring and ethical rectitude among those who have the remit for urban planning.
Causes of (avoidable) urban development problems in Lagos
Arising from the above observation about the deviations from what ought to be done and not done properly in accordance with planning best practices; urban development scene in Lagos has continued to be plagued with numerous problems, the most noticeable of which are listed for the sake of emphasis:
Incompatible land uses where offices are located in residential areas, industry next door to a school, a church sharing the same premise with a residential building and other planning oddities too numerous to mention due to space constraint.
Man-made traffic problems where commercial buildings banks, fast-food joints and event centres are located in ever-busy arterial roads without minimal standard of required parking space.
Unsustainable increase in housing density creating problem of air circulation due to lack of minimum space prescribed by physical planning regulations. In some instances, houses are built like pack of sardines.
Institutional inefficiency and lack of constant monitoring of on-going development/construction activities in the Lagos Mega City region as evidenced in the collapsed building at Lekki Phase I earlier referred to.
Ridiculous building plan approval at variance of extant approval order for certain localities (Parkview Estate is a classic example. Too many planning violations abound in that estate).
Lawless developers who would not comply with development regulations and ready to cut corners thereby endangering the lives of the citizenry as witnessed in the recent building collapse at Lekki Phase I last March.
Flagrant violations of operative Lagos Model City Plans in such districts as Victoria-Island/Ikoyi, Apapa, Agege/Ifakoijaiye).
Non-existence of an Urban and Regional Planning Tribunal required by extant LASG physical planning law, where cases of planning violations/disputes can be petitioned and adjudicated by an Independent jury.
Feeble citizens' participation in plan formulation and the processes leading to it.
Under-staffed and not-well-equipped Physical Planning District Offices for effective performance of routine supervision and monitoring of developmental activities within assigned local planning district(s).
Paucity of useful information online for public use from the websites of all government institutions responsible for physical planning, environment, building control and allied matters.
Arbitrary conversion of building without the necessary permit from planning authority for change of use.
The way forward
If all the lapses identified above are to be rectified, the LASG must have the political will to do certain things that government had been repeatedly advised to do over the years in order to improve physical planning, urban development; and to drastically reduce the incidences of building collapse in the state. To buttress this point, the issue came to the fore after the building collapse at Lekki. In the Tribune edition of Tuesday, March 29, Mrs Kehinde George, who is the first female Town Planner in Nigeria and a seasoned planning practitioner, remarked as follows: "The government shares part of the blame because it has not implemented some of the earlier recommendations made by experts on building collapse."
Her view was corroborated in the same newspaper report by the ex-president of Nigerian Institution of Estate Surveyors and Valuers (NIESV), Mr Bode Adediji, who argued that "the government must be dedicated to put an end to it (cases of building collapse). "Since we have been recording such incidents, no one has been made to face the law so as to serve as deterrent to others."
The views of other experts who spoke on the same subject matter were also in tandem. In other words, they are saying that government needs to be assertive, take the bull by the horn and protect the citizenry. Government cannot be doing the same thing over and over again and expect a different result.
Kudos to Governor Ambode
Since the sad incident of building collapse at Lekki under reference, Governor Ambode took some initiatives for which he must be commended. The Governor sacked the General Manager of Lagos Sate Building Control Agency (LASBCA) and three other key officials for negligence of duty and set up a Committee to advise government on how to improve the efficiency of LASBCA in accordance with its statutory responsibilities. Governor Ambode let it be known that there is a new sheriff in town and that it won't be business as usual. This writer is in total agreement with the governor, but wishes to draw his attention to the following list of quick fixes which Governor Ambode would need to take immediate actions.
Actions the Lagos State Government must urgently take
Constitute the Urban and Regional Planning tribunal as specified in the relevant provision of the state physical planning law. The failure in setting up the Tribunal since the law was enacted in 2010 is an unnecessary bureaucracy.
Equip the various District Offices with necessary tools to facilitate better job performance of field officials (operational vehicles, modern office equipment, base maps, faster mode of communication etc.)
Recruit more professionals in the various fields (town planners, structural engineers, builders, environmentalists, etc) to do the job of physical/environmental planning and supervision especially at the outpost offices which are closer to the delineated Local Planning Areas (LPAs). Lagos is an extraordinary large and densely populated planning region. The current staff strength is far inadequate to effectively police the entire region, planning wise.
Occasionally organise Town Hall meetings on planning and urban development as a platform for citizen participation and sundry stakeholders' involvement in the planning process.
Establish Citizen Planning Academies (CPAs) designed as community education programmes, which will facilitate and support understanding of planning and planning policy between the local government and its citizens.
Conduct regular in-service training for government officials to update their knowledge about emerging/best practices in urban planning.
Restructure all government MDAs for effective service delivery, eradicate duplication of statutory functions and encourage inter- agency collaboration among ministries/departments/agencies/authorities.
Direct the Ministry of Physical Planning and Urban Development to be proactive, publish quick read planning fact sheets/brochures/resources for public information and consumption. Access to planning information by the public should be unfettered both online and through direct contact with the designated offices of the Lagos State Government. The public must have easy access to government regulations in order not to run afoul of the laws.
Implore the MPP & UD to be IT-compliant and regularly update its website with useful planning information and downloadable. The present information on the website is very scanty. No downloadable. It should be regularly updated.
Strict enforcement of planning laws should be total. It should not be selective, arbitrary, punitive or arrant display of executive high handedness or recklessness.
District officers must be held responsible for any planning gaffe/negligence within their areas of operation and where found culpable for aiding and abetting any violation; such official(s) must be sanctioned and reported to the disciplinary committee of his/her professional association for appropriate punishment.
Proper land use planning
In conclusion, proper land use planning practice is sine qua none to harmonious urban living, promotion of aesthetics and tool for controlling urban decay. In practice, the Lagos Mega City Region is an unfortunate victim of improper land use practice thereby creating a nebulous and irritating urban landscape and housing overcrowding. Government must promote better land uses through the instrumentality of zoning in line with global best practices, to befit the status of Lagos as a Mega City and to showcase appealing attractions for local and international tourism.