Nobel Laureate, Prof Wole Soyinka, has said that drug abuse and trafficking could spell doom for Nigeria unless sustainable effort is made to transform the mindset of the nation's future generation.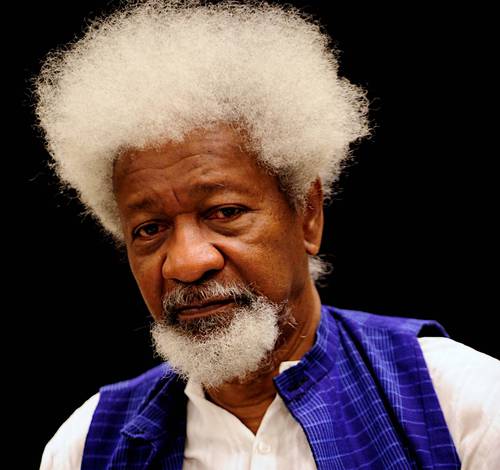 Soyinka made the submission in Lagos on Tuesday, June 26, 2018 in a goodwill message during the Global Youth Action Day celebration in Nigeria, organised by Vision of the Child, a non-governmental organisation. The programme was held with funding from the European Union and coordination by the United Nations Office on Drugs and Crime (UNODC).
According to Soyinka, drug abuse and trafficking "constitute two major concerns that have acquired critical dimensions in modern society all over the world and threatens especially disastrous consequences for a society such as ours."
Soyinka, represented by a Trustee, Jahman Anikulapo, also expressed his regret that, owing to adverse circumstances, the highly successful modes of cultural involvement by Vision of The Child would not take place this year.
He said, "We must however endeavour to make such transformative exercises a permanent feature in one form or the other. Society should not lose a channel for raising awareness on those impediments to the emergence of a healthy, focused and participatory generation. Your enthusiastic and creative envisioning of a future that many of us constantly wish would manifest itself even today, must remain an integral part of direction seeking for adult society."
Seventeen change makers received awards at the Vision of the Child event and, according to the Executive Director, Foluke Debbie Michael, the Vision was conceived in 2011 under the leadership of Professor Wole Soyinka.
"We started the narrative of bringing up young Nigerians that will lead change in the future. Our main object is to see the next 15, 20 years of Nigeria with some of these young change makers are leading change with integrity," said Michael.
She said the Vision of the Child took a new turn this year "because a topic needed to be treated. For us to raise new leaders, we don't want them to be polluted. A lot of the youth and even children in Lagos are already using drugs.
"They went around schools, listen to the students and we realised that there is one thing apart from corruption that will kill creativity, which is drug. This realisation led to collaborate with the European Union and the UNODC."
At the event in Lagos, 17 female students emerged as change makers that worked on the Sustainable Development Goals (SDGs). They came up with 17 creative ideas and solutions to the drug problem, which they presented to the audience. "Each of these students approached the solution and the presentations from the angle of global good."
The UNODC's Project Officer, William Wu Shiyin, said the UN organisation assists member states to fight against drugs and crime, trans-national crime and terrorism. They also assist in anti-corruption and threat to national security.
He said each year they usually came up with a theme to celebrate the Anti-drug Day on June 26, stating that this year's theme is "Listening to the Children and the Youth". This is "because we think childern and youth are the future of our world."
A top official of the Lagos State Ministry of Youth and Social Development, Mrs. Williams, who represented the Commissioner, Bola Dabiri, said they held a programme, about a week ago, titled "Kick Against Drug Abuse".
She said: "The drug abuse pandemic has really eaten into the fabric of the nation and every hand needs to be on deck. I ask myself about the theme 'Listen First' and wonder who is doing the listening? Is it the parents or is it the youth?"
She urged parents to listen to the youth and "their body language, check their bags, look at their bodies for marks, check their lips to see if they are darker which could be a sign that they are smoking or drinking things."
The youth, she said, also need to listen to their parents, assuring the youth that no parent would mislead their children. "Your parents should be the first people you run to when there is trouble and not your peer groups. Your peer group is like you mate; I don't see how they can know better than your parents. You should try and make your parents your best friends."