Over two years ago, the United States listed climate change, use of biological and nuclear weapons, cyber-attacks and transnational crimes as five major events that could change the scope of global security for the worse in the coming decades.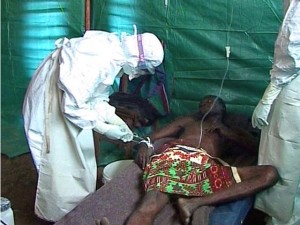 The 2012 prediction contained in a report by the US National Defence may have been confirmed by recent violent events that have compromised the safety of lives and properties in Nigeria, like the insurgency being perpetrated by the Islamic sect, Boko Haram, with current trends showing that it may get worse.
Climate change
The impact climate change has on national security is a 21st century fear hinged on predictions that it will cause sea levels to rise, cause severe droughts, melt the polar caps resulting in frequent and devastating natural disasters that will raise demands for humanitarian assistance and disaster relief.
The US prediction hinted that the warming of the planet will lead to new conflicts over refugees, resources and catastrophic natural disasters, requiring U.S. military support and resources.
The arrival of the team from US to assist Nigeria in finding the over 200 girls that were abducted by the Boko Haram in Chibok, Borno State, may be an attestation to this.
Borno, where the Boko Haram insurgency is rife is bordered by the Lake Chad, a body of water that has been affected by climate change more than any natural landmark in the area.
Lake Chad is a major source of freshwater for irrigated farming and projects in the countries in parts of Nigeria, Chad, Niger and Cameroon. However, recent satellite images have revealed a lake that has lost a larger proportion of its body within the last three decades.
A report by the United Nations Environment Programme (UNEP) disclosed that, since 1963, the lake has shrunk to nearly a twentieth of its original size. This has been attributed to climatic changes and high demands for agricultural water.
Many of the conflicts in the area have been linked to the struggle for control of the water and land areas surrounding it, allegedly fueling the insurgency in North Eastern Nigeria.
Climatologist and senior lecturer at Ahmadu Bello University, Zaria, Kaduna, Professor Emmanuel Oladapo, said, "Almost everything is attributable to Climate Change."
"Poor maternal health, just name the issues and you may not be wrong. It is also true that Climate Change, which has put so much pressure on the vegetation in northern part of Nigeria may be responsible for the incessant migration of the herdsmen Southwards were the vegetation provides better pastures for their herd," he added, giving another perspective to the rampages of herdsmen across the country.
He, however, said the effect of climate change on activities of the herders could only be remotely linked to climate change.
Biological weapons
Fears that biological weapons will become eventual choice weapons for terrorists attack are becoming more real. Experts have said that with timely and accurate insight on potential attacks, a biological weapon could be prevented from being used.
But Nigerian scientists are concerned that the porous nature of the country's borders pose a huge risk factor in this regards.
This fears manifested in March, when cases of Ebola virus infection were being recorded in by Nigeria's neighbours.
Renowned virologist and President, Nigerian Academy of Science (NAS), Professor Oyewale Tomori, was first to raise the alarm.
He said, "Cases like Ebola pose serious security risk to the nation, especially that the borders are so porous. Someone with the virus could just walk into the community without knowing he has such."
Fears that Nigeria could be an easy target for terrorists who choose to use biological weapon are heightened by the country's lack of diagnostic capacity to handle bio-hazardous substances, as is the case with Ebola.
Registrar of the Medical Laboratory Council of Nigeria (MLCN), Professor Anthony Emeribe, said, "Agreed, Nigeria has the (personnel and space capacity to detect Ebola virus. There is, however, no laboratory in the country that has the safety levels needed for its diagnosis."
According to the MLCN Registrar, the most advanced laboratories in Nigeria that can handle such cases have a maximum Level 3 Biosafety level as against Level 4, which is the basic for culturing and manipulation of Ebola Virus and similar viruses.
Nuclear weapons
The US expressed concern in the National Defence report that black-market trade in sensitive nuclear materials might be building up. As at the time of publishing, the report disclosed that no high-tech sensors existed to help break up nuclear black markets, detect and intercept them in transit.
Nigeria has, in the recent past tinkered with nuclear technology that has not really blossomed. It was one of the issues raised for considerations at the ongoing National Conference.
Former President of the Nigeria Academy of Science, Prof. Anya O. Anya, who was also a delegate at the confab, pushed for Nigeria to endorse the idea of developing capacity in nuclear and other high profile technologies, saying that Nigeria would continue to roll over without the political will to develop science and technology.
This was countered by some of the delegates at the conference, one of whom pointed out that Nigeria, which is unable to manage its hydro electricity technology, cannot attempt nuclear technology, a more complex technology to handle.
Some others said a nuclear plant is accident-prone, and far beyond what the country could cope with. So, as it stands, the country is naïve as far as nuclear technology is concern, raising fears that it may just be helpless in case of any nuclear attack.
Cyber attacks
The use of internet video streams by the terrorist group, Boko Haram, has raised concerns that the internet could pose serious threat to national security. The White House describes the situation as one where technology becomes a double-edge sword, as it is used for positive empowerment, but could also create a platform to empower individual criminal hackers, organised criminal groups and terrorist networks.
"The cybersecurity marketplace is flooded with products that promise quick fixes but it is becoming clear that the increasing persistence and sophistication of attacks will require solutions beyond the traditional," the report pointed out.
Dr. Charles Iheagwara, a licensed professional engineer and founder of Unatek, Inc., a US government Information Technology contractor located in Bethesda, Maryland, US, said ICT is yet to be properly deployed in Nigeria.
On how this could be used to tame insurgency in Nigeria, Iheagwara said, "The developed world and some developing countries have been using it for quite a while now for a variety of purposes including tracking and fighting insurgencies. Drones for example that are used to destroy terrorist cells are ICT-operated."
By Onche Odeh