For years, experts had been warning that Houston was a hurricane disaster waiting to happen. The city is built on a massive flood plain next to the Gulf of Mexico, which routinely sends big rainstorms its way. As the city has grown into the nation's fourth largest, developments have gone up in areas that more strictly regulated states wouldn't allow. And with the long-term risks to Houston rising, there's no easy or cheap fix, writes Ralph Vartabedian in the Los Angeles Times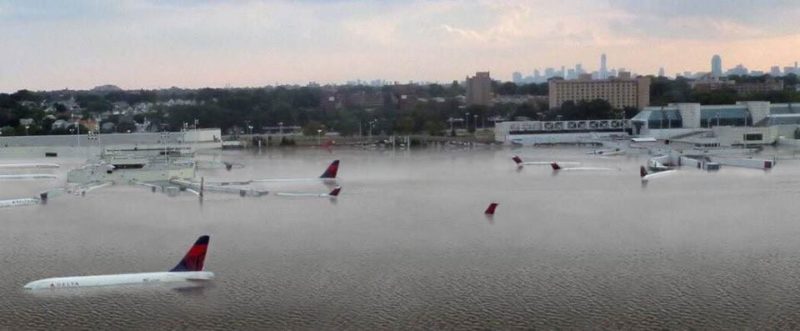 Houston is built on what amounts to a massive flood plain, pitted against the tempestuous Gulf of Mexico and routinely hammered by the biggest rainstorms in the nation.
It is a combination of malicious climate and unforgiving geology, along with a deficit of zoning and land-use controls, that scientists and engineers say leaves the nation's fourth most populous city vulnerable to devastating floods like the one caused this week by Hurricane Harvey.
"Houston is very flat," said Robert Gilbert, a University of Texas at Austin civil engineer who helped investigate the flooding of New Orleans after Hurricane Katrina. "There is no way for the water to drain out."
Indeed, the city has fewer slopes than a shower floor.
Harvey poured as much as 374 billion gallons of water within the city limits, exceeding the capacity of rivers, bayous, lakes and reservoirs. Experts said the result was predictable.
The storm was unprecedented, but the city has been deceiving itself for decades about its vulnerability to flooding, said Robert Bea, a member of the National Academy of Engineering and UC Berkeley emeritus civil engineering professor who has studied hurricane risks along the Gulf Coast.
The city's flood system is supposed to protect the public from a 100-year storm, but Bea calls that "a 100-year lie" because it is based on a rainfall total of 13 inches in 24 hours.
"That has happened more than eight times in the last 27 years," Bea said. "It is wrong on two counts. It isn't accurate about the past risk and it doesn't reflect what will happen in the next 100 years."
In an average year, Houston gets 50 inches of rain — as much as Harvey will deliver to some parts of the city.
The muddy rivers — notably the San Jacinto and the Buffalo Bayou — that meander through Houston struggle to carry much water.
Dams along the rivers were built mainly for water storage, not flood control. Because Texas is so flat, the dams can't hold much water, unlike western dams that are built in deep gorges.
Lake Conroe, a reservoir 43 miles north of the city, is one example. Completed in 1973, it has a capacity of 430,000 acre-feet, about 12% of Oroville Dam in California.
The San Jacinto River Authority, which manages water supplies, knew that Harvey was probably headed its way. But a spokeswoman, Rhonda Trow, said the authority chose not to release water from Lake Conroe in advance because the amount it held wouldn't have made a difference and could have caused flooding even before the storm hit.
But by Monday, the authority had no choice but to open the flood gates to send 79,141 cubic feet of water to flooded Houston every second.
The situation was similar on two dams on the Buffalo Bayou controlled by the Army Corps of Engineers up river from the Houston Ship Channel.
The long-term risks facing Houston are growing, owing to warming water temperatures in the Gulf of Mexico, which will fuel more powerful hurricanes by increasing the moisture they carry.
Harvey caused a surge in the Gulf of Mexico that raised its level by as much as 15 feet along the Texas coast, Bea estimated. That meant that for some period of time, rivers were not flowing normally, leaving inland areas less than 15 feet above sea level with little drainage.
In Katrina, the level of the gulf surged by 28 feet, the largest ever recorded along the Gulf Coast, sending water pouring over levees and canal walls. But far less rain fell in that storm than in Harvey.
Beyond the climate change, Houston faces other growing risks for flooding.
Shuhab Khan, a geologist at the University of Houston, has documented that some areas of Houston are sinking at up to 2.2 inches per year, a rapid rate in geological terms.
While some of the subsidence is caused by natural movements of salt deposits, Khan said that most is the result of pumping oil and water from under the city.
So far, it appears some of the hardest-hit flooded areas, such as the Jersey Village nieghborhood, are also the ones affected by subsidence, he said.
In the 1930s, a new residential subdivision was built in the Brownwood neighborhood, which at the time was 10 feet above sea level. Forty years later, it was less than 2 feet above sea level, a subsidence blamed on ground water pumping along the Houston Ship Channel. The neighborhood was destroyed in Hurricane Alicia in 1983 and is now the Baytown Nature Center.
Another long-term problem is the city's rampant growth and urbanization. The city has 2.2 million residents and the metropolitan area has 6.5 million, all living in a state that eschews much of the zoning and land-use controls that help keep construction away from flood zones in states with more regulations.
"It is naturally prone to flooding," said Don Riley, the former chief of the Army Corps of Engineers civil works division. "People have built in this massive flood plain. They have to understand that."
The Corps and local officials have discussed ways to avert even greater risks by improving zoning, reducing the amount pavement to allow better drainage into the soil, building retention ponds in new housing developments and constructing new storm barriers. But when the Corps has tried to encourage land-use controls, the local reaction by politicians and developers has often been swift and furious, Riley said.
"The problem is not decreasing, whatever the future of the weather is," he said. "It will worsen in the sense that there will be more population. You have to be smart about where you put development."
The future defense of Houston is likely to be expensive, experts said. The Corps spent $14.2 billion to improve flood control in New Orleans after Katrina, which was aimed at building up levees and flood walls. But just this month, the city was again flooded when its decrepit pumping system was overwhelmed by rainfall.
In the aftermath of Katrina, the American Society of Civil Engineers said that New Orleans' flood control was a system in name only.
Bea said that reflects the reality of Houston as well.
He estimated that it could cost hundreds of billions of dollars to build a system that would prevent future flooding, involving land-use restrictions, new flood barriers and other measures similar to those in the Netherlands. The Dutch system attempts to defend Amsterdam and Rotterdam from a 10,000-year storm event.
Exactly what Houston could do is far from certain. Gilbert, the University of Texas expert, said any big measures would take a lot of study. Chicago, for example, has massive tunnels hundreds of feet underground that can store 21 billions of gallons storm water and prevent sewage contamination of Lake Michigan, he noted.
"Houston is excessively developed," he said. "It has 6 million people with lots of concrete and lots of people in harm's way."