Berta Cáceres, 2015 Goldman Environmental Prize winner, was on Wednesday night murdered in her home. Her assassins reportedly waited until well after dark before breaking into the house where she slept.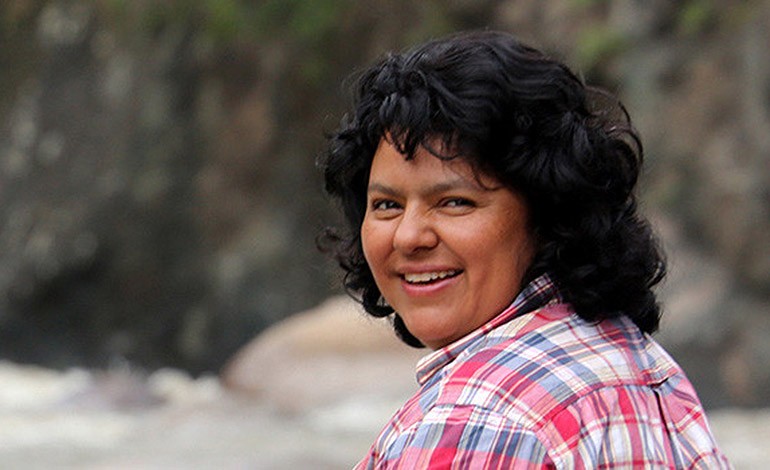 During her lifetime, the late Ms Cáceres rallied her fellow indigenous Lenca people of Honduras and waged a grassroots campaign that successfully pressured the world's largest dam builder to pull out of the Agua Zarca Dam.
Since the 2009 coup, Honduras has witnessed an explosive growth in environmentally destructive megaprojects that would displace indigenous communities. Almost 30 percent of the country's land was earmarked for mining concessions, creating a demand for cheap energy to power future mining operations. To meet this need, the government approved hundreds of dam projects around the country, privatising rivers, land, and uprooting communities.
Among them was the Agua Zarca Dam, a joint project of Honduran company Desarrollos Energéticos SA (DESA) and Chinese state-owned Sinohydro, the world's largest dam developer. Agua Zarca, slated for construction on the sacred Gualcarque River, was pushed through without consulting the indigenous Lenca people – a violation of international treaties governing indigenous peoples' rights. The dam would cut off the supply of water, food and medicine for hundreds of Lenca people and violate their right to sustainably manage and live off their land.
It is not yet known who is behind Cáceres assassination but, as an indigenous, environmental and human rights activist, she knew well the risks she faced, according to observers. In 1993, she co-founded the National Council of Popular and Indigenous Organisations of Honduras (COPINH) to address the growing threats posed to indigenous communities by illegal logging, fight for their territorial rights and improve their livelihoods.
The work of COPINH is still sorely needed. Honduras has been called, "the deadliest place for environmental activists", and is a country where corruption is a major problem. Twelve activists were killed last year alone for their efforts to defend land and the environment, according to a report by UK-based NGO Global Witness – more per capita than any other country (a record Honduras has held for the last five years). "This is a sad day for Honduras and the world," said Jagoda Munic, chair of Friends of the Earth International, adding:
"Given the situation in Honduras, in which indigenous, environmental and human rights activists like Berta Cáceres are targeted by government and corporate security forces alike, international pressure is needed to bring the murderers to justice and protect those brave enough to speak out on behalf of their fellow citizens and the environment. Our condolences to her family, friends and all who worked alongside her."
Munic adds: "At Friends of the Earth International, we have for a long time admired the work of Cáceres and COPINH, and at times worked together. In 2013, Friends of the Earth supporters joined voices around the world in support of Cáceres when she and other activists were facing prison sentences."
On threats to her own life:
"The army has an assassination list of 18 wanted human rights fighters with my name at the top. I want to live, there are many things I still want to do in this world but I have never once considered giving-up fighting for our territory, for a life with dignity, because our fight is legitimate. I take lots of care but in the end, in this country where there is total impunity I am vulnerable… when they want to kill me, they will do it."
— Berta Cáceres, 24 December 2013
Last year, Cáceres was interviewed about the death of a fellow activist, Tomás Garcia – who was shot at close range during a peaceful protest at the site of the same Agua Zarca hydro-electric dam. This is how she ended that interview:
"We truly believe in solidarity and in hope despite how hurtful this process is. And we can only think of how our brother, Tomas, is no longer with us, of how much he is missed, not just by his family – his sons and daughters, but by COPINH as well. And despite everything that's happened, we still have hope in our people's struggle."
— Berta Cáceres, 9 December 2015