It has been a tale of woes as floods takeover Egbema communities in River State, even as community leaders blame Nigerian Agip Oil Company for being responsible for the catastrophe.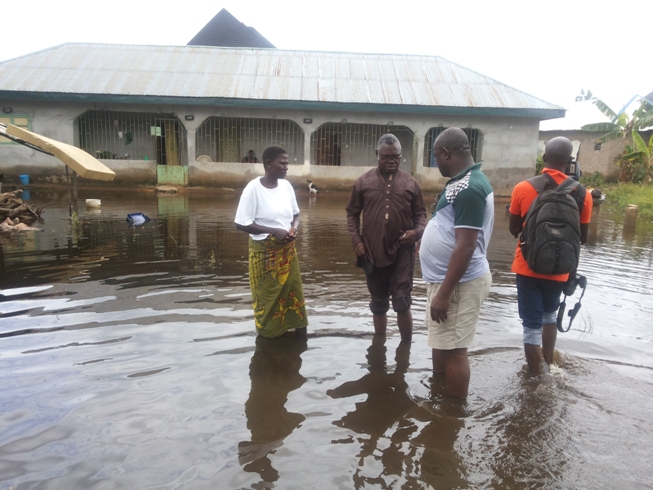 The flood has so far displaced more than 1,000 persons and properties worth millions of Naira destroyed.
Alexander Uba, a community leader and a former Youth President, remarks: "This disaster is man made." Uba leads this reporter to a small road leading to one of the many oil wells operated by Nigerian Agip oil Company Limited, stops abruptly and says: "This place I am standing is the access road to Location 19; this is the place causing the whole problem of Aggah flooding; lift the blockage and I tell you the truth that as soon as this blockage is lifted the flooding problem would be solved."
Another victim, Mrs Celine Assuah, who is a middle-aged woman, fears that this will not "turn into another nightmare as the case of 2012 during the Great Flood." Some of her cooking utensils can be seen floating in her flooded kitchen, while she is busy arranging some other properties she intends to take to a dry house, somewhere in the community. "Why can't government do something about this flood?" she demands.
"This flood has swept away our livelihood," cries Ike Albert, a farmer. The flood has swept away hundreds of thousands of hectares of cassava farms, yams, cocoyam and vegetables, he tells EnviroNews. For now, people may not feel the impact of the flood so much because they are yet harvesting the food meant for next year, he explains. "But there will be hunger in this land next year because we are now eating our tomorrow today," he warns. From one home to another, this reporter sees heaps of cassava, most of them premature, but which the owner has apparently been forced to harvest because of the flood, thus confirming the predictions of Mr. Albert.
Like a wild bull let loose in the market place, this flood has destroyed everything in its part, not spearing places of worship. At the Christian Pentecostal Mission in Aggah along New Idea Road, the Shepherd, Pastor Michael Daniel, is seen in a pensive mood as he recalls the events of the past weeks.
He tells EnviroNews that, at a point, the church had to beg people to give them their private house as an alternative place of worship. "But now it is not possible because the owner of that premises has rented out the place," he says sadly. Most painful to him, he adds, was "a particular day my Church Sunday service was stopped midway because of flood water".
When this reporter asked him what his church has done to solve this problem, he replies: "The church has done a lot of sand filling here, but that could not solve the problem." Daniel therefore calls on government to do everything possible to stop the flooding and to send relief materials to help displaced persons.
At the Deeper Life Bible Church, the story remains the same, though the church was locked but the water outside was above the knee level. The Pastor could not be reached for his comment but one of the church members, Mrs. Victoria Elechi, was on hand to respond to our questions. Mrs.  Elechi fears that the church may have to relocate. They actually did, "joining" a sister church at a safer part of the town. She says: "Agip should remove the blockage at Ode ogwgwu to save us from this suffering."
When EnviroNews visited the Cherubim and Seraphim Church located along Mgbede road in Okwuzi in Ogba/Egbema/Ndoni LGA of Rivers State, the church was deserted as the whole premises was a sea of water. The hitherto ever-busy church with over 150 members, which also houses some members who come for spiritual healing, is now like a ghost town. The silence is deafening. The same fate has befallen numerous churches in Mgbede and other neighbouring communities.
While speaking to EnviroNews, a community leader from Mgbede, Comrade Chris Edeh, wondered why such a massive flood has not attracted any attention from the media. "Why is this massive flooding not in the news?" he asks. "If this kind of flooding is happening in big cities such as Port Harcourt or Abuja it would make headline news every day."
Another community leader, Ethelbert Ihedike, who is the Community Development Committee (CDC) chairman of Aggah who spoke to our reporter, says, "This flooding has always been a problem to Aggah as long as I can remember. Every year, we call on Agip to come and do something about it. We have sent delegations to the company; we have also made our problems known to relevant government agencies in Rivers State all to no avail."
In neighbouring Okwuzi community, the New Life Jesus Ministry has been sacked from its site. In fact, the church has been forced to relocate to a smaller building which it vacated some years ago. So far some members have resorted to prayers for God's intervention, according to one Sister Grace Ibe.
Flood has also taken over the Odili Estate in Okwuzi, which houses some mobile and regular Policemen.
Officials at the Public Affairs Department of Nigerian Agip at OB/OB Gas Plant, Omoku declined to respond to enquiries by EnviroNews over allegations of the firm's alleged culpability regarding the flooding.
By Dandy Mgbenwa