June 2017 extended the spell of "exceptional global warmth" that has now lasted since mid-2015, according to the latest analysis from the Europe Centre for Medium Range Weather Forecasting Copernicus Climate Change Service. Average surface air temperatures were the second hottest on record, after June 2016.
In addition to high temperatures, extreme weather affected many different parts of the world in June and early July. This summary is compiled by the World Meteorological Organisation (WMO) Secretariat based on reports from national meteorological and hydrological services. It updates a previous report issued on June 20.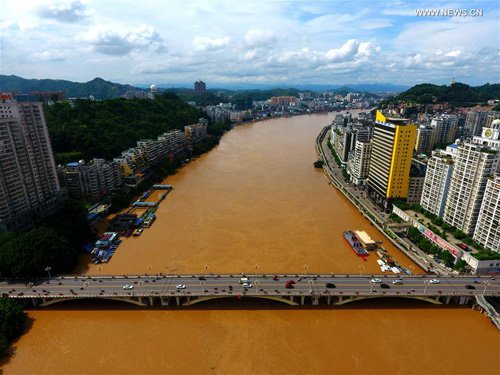 Temperatures
The Iranian city of Ahwaz reported a temperature of 53.7°C on Thursday, June 29, 2017 as part of a heatwave with temperatures in excess of 50°C in a number of locations across the region (including Iraq and Kuwait). A committee for WMO's Weather and Climate Extremes archive will examine several extremely high temperatures reported within the past year to see if they qualify as new records. In addition to the temperature seen in Ahwaz, there was a reported temperature of about 54°C in Turbat, in southwestern Pakistan (late May), and also in Mitrabah in Kuwait in July 2016.
Europe:  June 2017 was very much warmer than the 1981-2010 average over southern and central Europe, especially over the Iberian Peninsula, where Portugal experienced devastating wildfires. The heatwave shifted from the Iberian Peninsula to southeastern Europe, the Balkans and the Mediterranean towards the end of June, with temperatures well over 40°C in many countries.  The high temperatures were sometimes accompanied by damaging summer storms, hailstorms, torrential rainfall and flash floods.
The Deutscher Wetterdienst (DWD), which acts as WMO's Regional Climate Centre for Europe's Node on Climate Monitoring, updated its Climate Watch Advisory on Friday, July 7, 2017. "A period with significantly above-normal temperatures and heat waves, at least for the next week, is expected for most parts of the eastern Mediterranean (from Italy, Balkans to Caucasus and Middle East). The weekly anomalies are forecasted with up to +3°C (with daily temperature maxima up to or above 40°C). The probability for this anomaly is estimated to be above 80%. This warm period could come along with thunderstorms, showers or forest fires."
The Climate Watch Advisory is used as guidance for National Meteorological and Hydrological Services who are responsible for issuing forecasts and warnings. Meteorological services have also been providing information on air quality, UV levels and wildfire risk.
Conversely, temperatures have been well below average over the north-east of Europe. The contrast between south-west and north-east continues a pattern that was present in April and May, according to ECMWF.
In the Russian Federation, June 2017 was widely called Junabre (June plus November) because of the cold weather in the European parts of the country. A cyclonic depression caused extreme precipitation, with 185 % of monthly average rainfall falling in the last two days of June, causing casualties and economic disruption. June was the coldest month in the past 14 years for Moscow. Siberia also experienced anomalous weather events, with unusually cold weather changing to unusually warm weather in the second half of the month. The temperature topped 30° C (Solovievsk in Zabaikalsky Krai 39,4, Ulan-Ude in Buryatia 38,9, Karam in the North of Irkutsk Oblast 38,5).
Temperatures were also much above average, and high in absolute terms, over Morocco and northern Algeria. June temperatures were also much above average offshore of parts of Antarctica, where sea-ice cover was unusually low. Much of South America and Africa were warmer than average, according to the ECMWF analysis. Temperatures were well below average over East Antarctica. Several other regions experienced temperatures that were a little below average.
The US National Oceanic and Atmospheric Administration said that, starting around June 18 and continuing for over a week, scorching temperatures hit the western United States of America from Arizona to the Pacific Northwest.  June 20 was a particularly hot day for the southwestern United States. Las Vegas, Nevada (47.2°C or 117°F), and Needles, CA (51.7°C or 125°F), both tied their all-time record.
In Arizona, Phoenix saw temperatures hit 48.3°C or 119°F. The heat caused multiple canceled flights out of Phoenix International Airport. The hotter the air, the less dense it is, which means less lift for airplanes as they take off. In order to take off, the planes would have needed a longer runway, which was not available in Phoenix. From June 17-27, Phoenix International Airport has had 11 straight days with temperatures of at least 110°F, or 43°C.
As the heat wave continued, the hot air spread west and north. On June 25, Portland, Oregon reached 38°C or 101°F and Seattle, Washington, hit 35.6°C or 96°F – tying its hottest June day on record. Dangerous heat was expected across much of Southwest California on July 7, according to the National Weather Service.
Precipitation
China: The annual monsoon season has been accompanied by torrential rainfall in many parts of China for extended periods in June and early July, causing considerable economic losses and transport disruption. For instance, more than 600 flights were cancelled at Beijing airport alone on July 6 as a result of rainfall.
The rainfall was one of the contributing factors to a deadly landslide with many casualties on June 24 in Maoxian County, Sichuan. In North and Northeast China, the National Meteorological Centre said that from June 21 to June 24, the maximum hourly rainfall was between 20-40 mm.
Authorities issued warnings about water levels along key tributaries of the Yangtzee River basin. There was a red alert on July 2 along the whole course of the Xiangjiang River which was near or above record levels. The water level in the section of the river in Changsha, capital of Hunan, reached 39.21 meters on July 2, higher than the previous record of 39.18 meters set by a massive flood in 1998. Since June 22, flooding has inundated parts of several cities In Hunan, forced 311,300 people to evacuate, damaged 295,160 hectares of crops and destroyed 6,369 houses, according to the China Meteorological Administration.
Bangladesh: Tropical cyclone Mora at the end of May caused considerable damage and some casualties. This was followed throughout June by heavy monsoon rainfall which caused severe flooding and contributed to deadly mudslides.  Authorities were reported as saying that nearly 900,000 people were affected by floods as of 5 July.
Japan: tropical storm Nanmadol was associated with torrential rainfall in southern Japan. The city of Hamada in Shimane, which faces the Sea of Japan, saw hourly precipitation of over 80 mm on July 6, according to the Japan Meteorological Agency. The prefectural governments issued evacuation orders and advisories on Wednesday to a total of nearly 60,000 residents in affected areas.
Australia had the second driest June on record, with rainfall 62% below average for Australia as a whole, according to the Bureau of Meteorology. June was the driest on record for large areas of southern Australia because of persistent high pressure and a lack of cold fronts.