Ministerial-level representatives have been gathering virtually and in-person to firm up commitments and shared understandings for how they will collectively respond to the climate crisis.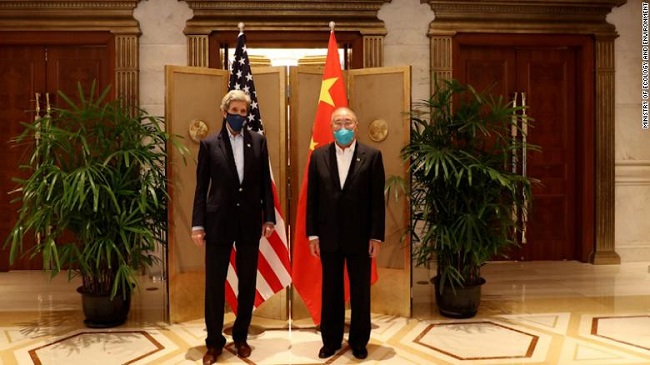 A recent consultation took place from April 15 to 16, 2021, in Shanghai, China, during which US Special Presidential Envoy for Climate John Kerry and China Special Envoy for Climate Change Xie Zhenhua discussed the climate crisis.
The two Special Envoys released a joint statement at the conclusion of their meeting. The statement highlights that the two countries are "committed to cooperating with each other and with other countries to tackle the climate crisis," and this should include enhancing their respective actions and cooperating in multilateral processes.
The Special Envoys recalled their two countries' leadership and collaboration leading to the entry into force of the Paris Agreement, and indicated that they are committed to pursuing efforts to implement its objectives, "including by taking enhanced climate actions that raise ambition in the 2020s."
They looked forward to the US-hosted Leaders Summit on Climate, which will take place virtually from April 22 to 23. The event was announced by the Biden-Harris Administration during its first week in office. Forty speakers have been invited to participate in the event.
The joint statement lists several short-term actions the United States and China will take, including:
develop by the Glasgow Climate Change Conference (COP 26) their respective long-term strategies aimed at net zero GHG emissions/carbon neutrality;
take appropriate actions to maximize international investment and finance in support of the transition from carbon-intensive fossil fuel-based energy to green, low-carbon, and renewable energy in developing countries; and
phase down hydrofluorocarbon production and consumption as reflected in the Kigali Amendment to the Montreal Protocol.
Concrete actions in the 2020s that the two countries will "continue to discuss" include: policies, measures, and technologies to decarbonise industry and power; increased deployment of renewable energy; green and climate resilient agriculture; and energy efficient buildings.
In addition, the two countries indicate they will cooperate to promote a successful COP15 of the Convention on Biological Diversity, which is planned to take place in Kunming, China in October 2021.
On March 23, 2021, China, the European Commission, and Canada co-convened the fifth session of the Ministerial on Climate Action, which the three co-hosts have convened annually since 2017. This virtual event brought together ministers from G20 countries and other key parties in the UNFCCC and was the first ministerial meeting of the year on international climate action in the lead-up to COP 26.
The EC reported that discussions focused on how to enhance global ambition while fostering global cooperation and solidarity, and understanding country-specific challenges and opportunities that arise in implementing low-carbon, resilient, and sustainable recoveries from the COVID-19 crisis.
In his statement to the Ministerial, UN Secretary-General Antonio Guterres stressed that "all countries, companies, cities and financial institutions must commit to net zero, with clear and credible plans to achieve this, starting today."
He called on participants to find breakthroughs on adaptation, finance, and ending coal. Guterres also encouraged countries to "move forward immediately with virtual negotiations," and said the UN will provide its full support "to ensure all countries are included, and all voices heard."
During the Ministerial, Kerry reported that the US Administration "is committed to a whole-of-government response to achieve net zero emissions no later than 2050". He also said the US will soon announce an ambitious NDC.