Herdsmen and farmers in Mashegu Local Government Area of Niger State have signed a peace agreement to stop clashes among them.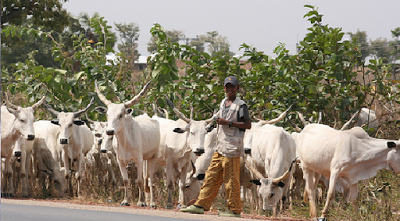 Alhaji Abdullahi Babayo, Director-General of Nomadic Affairs Agency in the state, disclosed this in a statement issued to the News Agency of Nigeria (NAN) in Minna, the state capital, on Wednesday, September 18, 2017.
Babayo said the aim of the meeting was to reconcile communities that were affected by farmers/herdsmen crisis in the area.
He said that the meeting was attended by Alhaji Bala Sai'du, Chairman, Mashegu Local Government, Alhaji Ardo Adamu, Chairman, Miyetti Allah Cattle Breeders Association in Niger, Fulani Herdsmen, Farmers, District Heads and community leaders from the area.
According to him, the meeting was to promote peace among farmers and herdsmen and to appeal to herdsmen to desist from grazing on farmlands to avoid clashes with farmers.
The director-general advised both parties to abide by the agreement and continue to respect the cultures of one another, tradition and means of livelihood.
He urged them to be law abiding and live in peace irrespective of ethnic, religious and political affiliations.
"Farmers and herdsmen should adopt alternative dispute resolution mechanism whenever there is a disagreement in order to avert the negative effects of crisis," he said.
Babayo also urged the Herdsmen to report any suspicious persons to the appropriate authority.
He said this would enable the authority to interrogate the persons to know their mission in the state.
He also advised both farmers and herdsmen against blocking cattle routes and destroying farmlands so as to sustain the peace in the area and guarantee food security.