The Police on Thursday, February 8, 2018 arraigned an 18-year-old herder, Abu Shagari, in a Makurdi Magistrates' Court in Benue State, for alleged open grazing.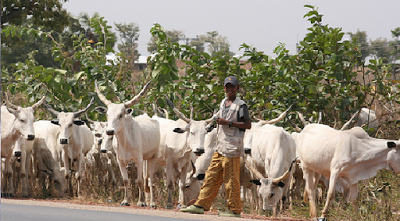 The prosecutor, Sgt. Abdulkarim Abubakar, had told the court that the accused person was arrested by a team of vigilance group, led by Gwaza Jacob.
He said the accused person was subsequently handed over to the State Criminal Investigation and Intelligence Department (SCIID) in Makurdi on Jan.21.
Abubakar said the team was on patrol along Adaka Road in Makurdi metropolis when they saw the accused person navigating his cattle to openly graze on the field.
He said the accused person hailed from Shabu village, in Nasarawa State.
The prosecutor averred that other herders in company of the accused person were at large.
The News Agency of Nigeria (NAN) reports that the accused person pleaded guilty to the charges.
The prosecutor pray the court to enter a summary judgment on the accused person, based on his guilty plea in line with Section 157 of the CPC.
However, My Jijani Ahmed, counsel to the accused person, had urged the court to reverse the plea of guilty to not guilty in the interest of justice.
He said his client must be given the opportunity to defend himself and for the prosecution to prove their case beyond reasonable doubt before a judgment could be entered.
The Magistrate, Mr Emmanuel Azembe, held that the accused person must give full explanation of his plea and the consequences that followed it.
He asked Shagari to show cause why the court should not convict him on the grounds of his plea.
The magistrate, however extended a life line to the accused person by asking if he could change his plea to "not guilty.''
Shagari after understanding the implication of his initial plea, was compelled by his counsel to change it to "not guilty.''
The magistrate ordered the remand of the accused person in prison and adjourned the case until Feb. 20 for hearing.
By Dorathy Aninge