Reservoirs, and rivers, in their thousands are disappearing on a global scale, glaciers keep melting and sea levels rise, many countries of the world watched in awe, confusion and fear as flood devastates their homes, yet others suffer from drought and wildfires that we should be convinced at this stage that climate change is far more vengeful than we can imagine.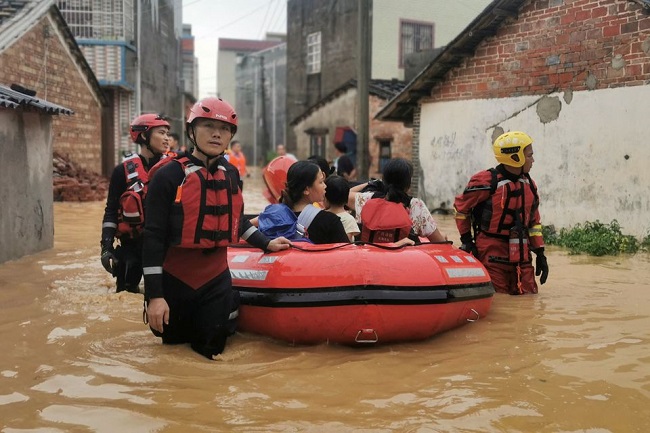 Temperature anomalies are a cause of fear, more than worry, media houses around the world tell us about rising temperature and heat waves on a global scale, our planet is suffocating from unprecedented heatwaves, causing thousands of deaths and large-scale forest fires have defied the firefighters, claimed lives and properties and caused thousands of people to leave their homes.
Due to high temperatures and drought across Europe, forests have been burning for weeks; 40 to 60 wildfires broke out every day in Greece alone. The natural resources of Spain have also faced the wrath of fire. Large-scale forest fires rage along the country and in just two days the fire burned more than two dozen hectares of land. The Czech Republic battled wildfires on July 24, 2022, the flames engulfed the country's reserve, Czech/Switzerland roads and the state border with Germany.
On July 27, 2022, in the Philippines, the Island of Luzon was shaken by a terrible earthquake (M7.3Earthquake), several people died and about 60 people were injured because of that. Landslides had been reported throughout the region and over the next four hours more than 220 aftershocks were reported and more than 15 provinces were said to have been affected by the natural disaster.
The southern province of Fars in Iran experienced devastating flash floods on July 22, 2022, it claimed the lives of over 20 people with so many others reported missing; the flood affected several cities and more than 10 villages, and the strength of the floods was so strong that it effortlessly washed away cars. As one natural disaster excavates another, heavy rains lead to catastrophic flooding. The people of Pakistan have also had their share of flooding with the death toll rising to more than two hundred within weeks, with over 6,000 houses destroyed.
The provinces of Balochistan and Sin have experienced the hardest hits the most. The heavy tropical downpour had also hit parts of the Indian state of Rajasthan on July 25, 2022, leading to flooding in the city of Jodhpur, with the streets practically becoming rivers.
St Louis in Missouri (USA) on July 26 received a historic amount of rainfall with 205 mm of rain falling within just a few hours, that was a new record in the region for the entire history of observations, with flash floods resulting in casualties and loss of properties. Flooding had taken over Mudanya in the Bursa town of Turkey causing more damage than the people can comprehend.
On July 23,2022, El Salvador experienced so much downpour leaving lives and properties lost, Poland suffered the same fate, and Oman, Mexico, with the devastating tornado in Cong chai, China. The Oak fire in the USA covers more than 9,100 acres of land with footage showing the fires spreading North and East with devastating effects on the forest.
Two water sprouts were said to have formed on July 24, 2022, in the black sea near the Betta farm in Krasnodar territory in Russia. The Cerro Prieto reservoir in the Mexican state of Nuevo Leon has shrunk to 0.5% of its capacity of 393 million cubic meters; the reservoir was shown in the Landsat imagery taken in July 2015 and 2022.
Turkey on July 25, 2022, fought wildfires in eight provinces with firefighters working to extinguish fires in the Western provinces of Kutaya and Menisan as well as in the Southern provinces of Merson, a fire that is now over 32,000 acres. The Governor of California had to declare a state of emergency in Butterfly County due to the devastating fire that had broken out on July 25, 2022, in the Yosemite national park near the city of New Pines according to Cal-fire the fire engulfed more than 14,000 acres and destroyed at least 10 structures.
Extreme climate change challenges humanity as a whole, major waterways continue to disappear around the world, with record-breaking droughts disrupting life and devastating communities on a massive scale. There is a dire emergency in East Africa, the drought there exacerbates the hunger crisis with as many as 20 million people starved in June, more than half of them children and new numbers from aid organisations reveal startling statistics, with every second an additional person in East Africa on the verge of starvation before the rains arrived. Eastern Africa is in the worst drought in decades, with many children not knowing their age but knowing starvation all so clearly.
Famine is stalking the sun-blasted plains of Kenya, Ethiopia and Somalia and according to aid groups, up to 20 million do not know when they will be able to eat, the majority of them herders. It is estimated that 3 million livestock have died over the past two years with carcases of cattle littering the roadways with many others too weak to rise to their feet.
Tens of thousands of people were affected by floods that hit the state of Central Darfur, Sudan on August 9, 2022, the Government Humanitarian Aid Commission had said that around 28,000 people had been affected by heavy rains and flash floods in Central Darfur over the past weeks, more than six people have died and an unknown number of people were injured when their homes collapsed due to heavy rains and others washed away by flash floods. Around 1,620 houses were reportedly damaged, and rain and flooding also damaged 63 water sources, 73 wells as well as several agricultural lands.
Devastating floods and wildfires devastated many countries around the world from June to date, in ways that we have only imagined, this article only looks at the period between June and August 2022, but the reality proves to be more painful than it looks. While nothing can control the weather, some measures can help to control the effects. Building very wide drainage systems to prevent clogging of debris leading to water overflowing roadways.
Structures that control debris reduce the chances of the situation occurring and creating warning systems and purchasing flood insurance is extremely important. State and local government agencies in charge of environmental affairs must prepare for environmental hazards at the right time. With all levels of government agencies taking workable action, the response will be very effective.
Support for affected communities must be readily available by the government and donor agencies. Accurate data helps to pinpoint risks and helps water authorities translate publicly available data from a range of sources, making it accessible in a form they can use to support decisions at a local level. Constructed wetlands, dedicated retention areas and restored vegetation cover to help mitigate the impacts of floods.
Rising to the occasion by engaging in activities that mitigate the consequences of our actions that have come to continually have terrible upshots on our environment.
By Halima Imam (xk4lima@gmail.com)