UN Secretary-General António Guterres in New York on Tuesday, September 25, 2018 urged countries to show "greater ambition and a greater sense of urgency" to confront the "direct existential threat" of climate change, and to adopt implementation guidelines of the Paris Agreement in in Poland in December of this year.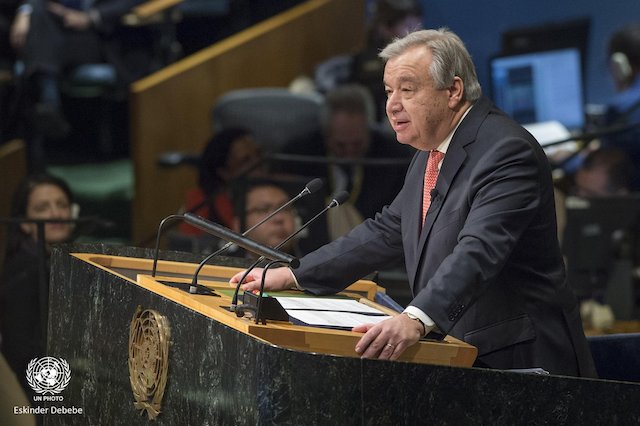 "Making matters worse, we – as a community of world leaders – are not doing enough," he told world leaders gathered for the opening of the annual debate of the United Nations General Assembly in New York.
"Climate change is moving faster than we are – and its speed has provoked a sonic boom SOS across our world," he warned.
The UN Chief said that, according to the World Meteorological Organisation, the past two decades included 18 of the warmest years since record-keeping began in 1850.
This year, for the first time, thick permanent sea ice north of Greenland began to break up. The concentration of carbon dioxide in the atmosphere is the highest in three million years and rising.
"Governments need to be courageous and smart. That means ending trillions of dollars in subsidies for fossil fuels. It means establishing an adequate price for carbon. It means stopping investments in unsustainable infrastructure that lock in bad practices for decades to come," Guterres explained.
The UN's top official also set out his expectations for the upcoming UN Climate Change Conference in Poland, where he hopes the spirit of multilateralism will prevail.
"The next Conference of Parties, COP24 in Poland in December, will be a key moment. It must be a success. As I said recently, we cannot allow Katowice to remind us of the divisions among Member States that paralysed Copenhagen."
Guterres was concerned about the pace of recent negotiations in Bangkok towards implementation guidelines of the Paris Agreement which ended "without sufficient progress". The guidelines are to be adopted in Poland in December.
He warned that the world had reached a pivotal moment and that if the international community did not change course in the next two years, it would runaway climate change.
In order to achieve the temperature limit, set out by the international community in 2015, "we must guarantee the implementation of the Paris Agreement," he said.
As part of the agreement signed in 2015 in the French capital, world leaders pledged to ensure that temperature increases would not exceed pre-industrial levels by more than 2°C and would be as close as possible to 1.5°C.
"Our future is at stake. That is why, next September (2019), I will convene a Climate Summit to mobilise action and finance. We will bring together countries and cities, the real economy and real politics, business, finance and civil society, to focus on the heart of the problem.
"The world needs you to be climate champions," concluded the UN Secretary General.