The popular Alex Ekwueme Square, Awka, the Anambra State capital city, may cave into massive gully erosion if no drastic and urgent control measures are taken to salvage it before the rainy season sets in.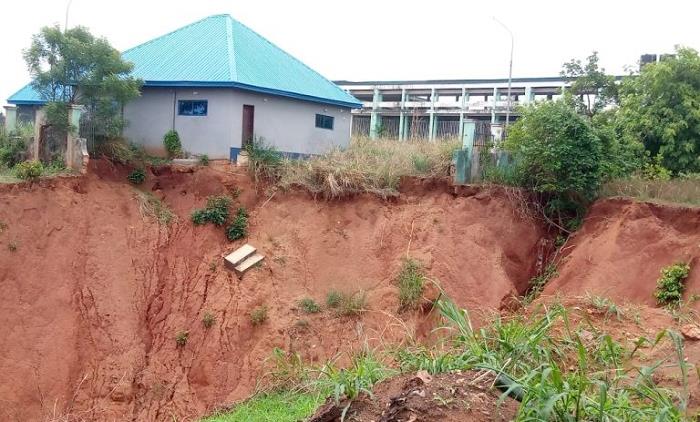 Already, parts of the facility, including the perimeter fence and changing room for an Olympic size swimming pool, have collapsed into the burgeoning gully while the facility itself which has been in disuse since March 2020, is under immense threat.
Threatened also is the Anambra State High Court Premises and some public buildings in the environs.
The Ekwueme erosion site is a major ecological danger site which had in the past posed a serious threat to the Federal High Court Complex, Judges' Quarters, Federation Secretariat and the moribund Anambra Government House which is now under construction.
The gully is already cutting off the road between Ekwueme Square and the State High Court, thereby exposing the temple of justice to possible imminent collapse.
The first intervention effort was done in 2019 when the then Nigeria Erosion Watershed Management Project (NEWMAP) implemented Gully Rapid Action and Slope Stabilisation (GRASS) to control damage to houses and critical infrastructure in the area.
Though the GRASS intervention was able to stabilised the Federal High Court Complex, Federal Secretariat building and the Government House, it did not solve the entire problem but shifted it as has been manifested in the new challenge.
NEWMAP in 2012 wound down operations in Anambra after 10 years of gully erosion intervention activities.
Reacting, Dr Felix Odimegwu, the state Commissioner for Environment, said the Ekwueme site was one of the numerous gully erosion threats facing Anambra.
Odimegwu, who described Awka as the gully erosion capital of Anambra, with over 1,000 active sites, said the state needed all the collaboration it could get to address the challenge.
He said the government was aware of the Ekwueme gully threat and had done a design that could permanently address the menace when it is approved and implemented.
The Commissioner said control works would commence at the sight soon to avert possible destruction of strategic state assets in the neighborhood.
By Chimezie Anaso