Gully erosion has severed the Nkpor-Nnobi Road, a major road which links Onitsha and environs with Nnobi, Nnewi and other parts of the southern part of Anambra State.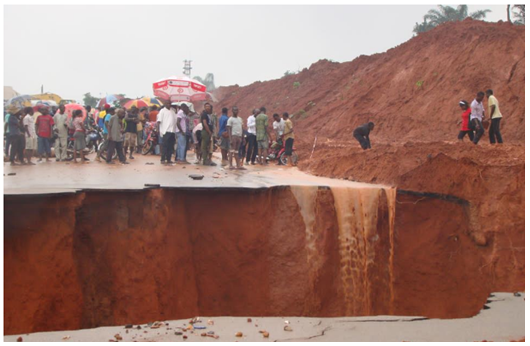 The road was built during the Dr Chris Ngige administration.
NAN reports that the gully erosion is few metres from the Ideani junction end of the busy road on the Nnobi bound lane.
Following the development, motorists tend to queue from both directions to take their turn in what looks like a "walk on a precipice".
One lane of the road has already collapsed while that existing is under serious erosion threat.
A motorist, Mr Joel Nnodum, who works for a popular transport company on that route, said the road had become a nightmare for motorists in the last two months.
Nnodum said vehicles usually ran into themselves, especially at night, noting that it was more dangerous for those who were not familiar with the road.
He said that the development was a dilemma because there were no alternative routes to easily access the area.
"My brother, it is a pity that this quality road which we have used for over 13 years have been destroyed by this massive erosion and the road has collapsed.
"This road connects the entire Onitsha and Idemili to Nnobi, Nnokwa, Nnewi, Aguata and most of Anambra south.
"It is a dangerous route to drive on now, you can see it is at a sharp bend and these glasses on the ground are from accidents, we pray the worst will not happen," he said.
Another motorist, Greg Unadike, who described the site as a disaster, called on Anambra government to urgently take steps to salvage the road.
Unadike said the colossal damage could have been prevented if flooding was nipped in the bud.
"This is a clear case of poor maintenance, the environment and works ministries could have prevented this if they were proactive, now see the damage, it requires a huge sum of money to fix," Unadike said.
Reacting to the development, Mr Marcel Ifejiofor, the Commissioner for Works, said the government was aware and that it was working on how to remedy the situation.
"We are working on it, the contractor will soon move to site," he said.
By Chimezie Anaso