Environmental security remains a challenge in the Gulf of Guinea and needs a sustained, robust response by countries in the area, Abidjan Convention Regional Coordinator, Abou Bamba, said on Tuesday.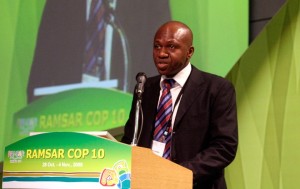 "From Nouackchott to Port Harcourt, the lives of millions are threatened by climate change related environmental risks," he said at the opening of an environmental security symposiun in Lome, capital of Togo.
The four-day symposium is co-sponsored by the United States Africa Command (U.S. AFRICOM) and the United Nations Environment Programme (UNEP) through the UNEP-administered secretariat of the Abidjan Convention.
The Gulf of Guinea is among the world's most productive marine areas. However, it faces serious environmental challenges such as coastal erosion, sea level rise, land-based sources of pollution, overfishing, and major oil spills that threaten the life and livelihoods of tens of millions of coastal dwellers from Banjul, Gambia; to Port Harcourt, Nigeria.
Recent heavy rains that caused massive flooding in the city of Abidjan, Côte d'Ivoire, killing 32 residents illustrates this situation and the vulnerability of the region's coastal settlements.
Environmental security covers a wide variety of issues, making a widely accepted single definition fraught with difficulties. Nevertheless, the concept examines environmental episodes that threaten individuals, communities or nations or that could lead to conflict. Environmental security along the marine and coastal space of West, Central and Southern Africa – the Abidjan Convention area – would protect human and marine life, as well as coastal habitats.
The symposium in Togo was opened by the country's minister for environment, Andre Johnson, and United States Ambassador Robert Whitehead.
This symposium will cover topics such as global environmental security challenges, implication of climate change on international security and water security, waste management, contaminated land assessment, clean-up of mining activities, and environmental considerations during military peacekeeping operations.
This is the fifth environmental security symposium that U.S. AFRICOM Environmental Security Programme and UNEP have organized, jointly. Previous ones were in Accra (Ghana), Gaborone (Botswana) and Libreville (Gabon) and Abidjan (Côte d'Ivoire), respectively. U.S. AFRICOM collaborates with the Abidjan Convention on marine and coastal environmental ecosystem issues.
The Abidjan Convention is a legal entity for Cooperation in the Protection and Development of the Marine and Coastal Region of West, Central and Southern Africa. Its emergency protocol on oil spills came into force in 1984. The Convention area covers 22 countries along the Atlantic coast of West Africa from Mauritania to South Africa. The United Nations Environment Programme headquartered in Nairobi, Kenya, administers the Convention, whose secretariat is in Abidjan, Côte d'Ivoire.
By Olubusiyi Sarr (Abidjan Convention)