Recognising the need for more sharing of knowledge and experience across stakeholders as well as to develop institutional capacity and skills to address ocean literacy concerns, the Pan African Vision for the Environment (PAVE) in collaboration with the Nigeria Institute of Oceanography and Marine Research (NIOMR), Faculty of Oceanography, University of Calabar, and the Nigeria National Commission for UNESCO (NATCOM) engaged stakeholders at a daylong forum in Lagos on August 24, 2021 to share strategies, facilitate capacity building and support policy advocacy on mainstreaming Ocean Literacy in Maritime Policy Frameworks and Legislations in Nigeria to mark "Africa Day of Seas and Oceans".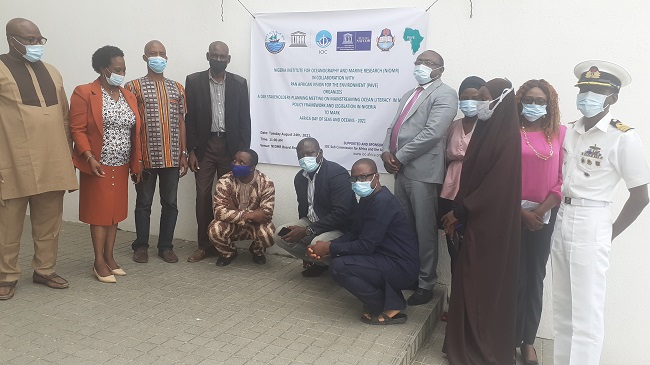 The initiative is being supported by the UNESCO-IOC Sub Commission for Africa and the Adjacent Island States.
According to the promoters, the objective was to engage key stakeholders to facilitate, plan and lead mainstreaming Ocean Literacy in Maritime Policy Frameworks and Legislations in Nigeria, through knowledge sharing, capacity building and networking in a spirit of partnership based on values of and a respect for gender equity, diversity and participatory decision-making.
In his welcome remarks, Prof. Abiodun Sule, the Executive Director, Nigeria Institute for Oceanography and Marine Research (NIOMR), welcomed participants and acknowledged Anthony Akpan, President, Pan African Vision Environment (PAVE), for the initiative.
Prof. Sule, represented by Dr. Regina Folorunsho, Director, Marine Meteorology and Climate Department of NIOMR and the UNESCO-IOC Focal Person for Nigeria, said: "You have given Nigeria the working document for ocean literacy that will encompass maritime stakeholders, policy makers, law makers, private and civil society organisations, youth and women groups and the media."
In a keynote presentation titled "Understanding Ocean Literacy and its Seven Essential Principles: A Key Necessity for Stakeholders in Nigeria", Akpan said: "Most people live their lives unaware of how their day-to-day actions impact on the health of the ocean, or how the health of the ocean impacts on their own daily lives. In Africa and Nigeria in particular, stakeholders including the general public are not aware of the full extent of the economic, social, political, medical and environmental importance of the sea. Many of us are not aware that our day-to-day actions can have a cumulative effect on the health of the ocean and seas – a necessary resource that must be protected for all life on planet earth to exist"
In other words, Mr. Akpan said "people lack a sense of 'Ocean Literacy', that is an understanding of the oceans influence on us and our influence on the ocean. An ocean-literate person understands the importance of the ocean to humankind, can communicate about the ocean in a meaningful way and could make informed and responsible decisions regarding the ocean and its resources".
In more detail, Akpan said "ocean literacy is more than just educating or informing the public and the marine and maritime stakeholders about the importance of oceans. Ocean literacy, through the use of behavioural change methods and adopting of a system approach, aims at facilitating the creation of an ocean literate society. Ocean literacy therefore is an understanding of the oceans influence on you and your influence on the ocean".
Akpan listed the Seven Essential Principles of Ocean Literacy to include:
Earth has one big ocean with many features.
The ocean and life in the ocean shape the features of Earth.
The ocean is a major influence on weather and climate.
The ocean makes Earth habitable.
The ocean supports a great diversity of life and ecosystems.
The ocean and humans are inextricably interconnected.
The ocean is largely unexplored.
In his conclusion, he called for the development of a common "learning forum" by establishing a multistakeholder Ocean Literacy Action Network in Nigeria.
Prof. Francis Emile Asuquo, Faculty of Oceanography, University of Calabar, spoke on "Ocean Literacy, Pollution and Maritime Safety in Nigeria". The paper was presented on his behalf by Prof. Nsikak Benson of the Covenant University, Ota.
The presentation focussed on the "Introduction by man, directly or indirectly, of substances or energy into the marine environment (including estuaries) resulting in such deleterious effects as harm to living resources, hazards to human health, hindrance to marine activities including fishing, impairment of quality for use of sea water and reduction of amenities''.
Thereafter, there was a plenary discussions and questions session by all participants.
Commander A. A. Giginya of the Nigerian Navy Hydrographic Office (NNHO) brought to the fore the issue of sea blindness and the need for a National Maritime Policy and Strategy for Nigeria.
Dr. Joseph Nkwoji of the Department of Marine Sciences, University of Lagos, emphasised the need to further raise awareness about marine pollution and its related issues.
Mrs. Ebere Akwuebu, Programme Manager, Environmental Law Research Institute (ELRI), said there is need for policy makers/parliamentarians through legislative advocacy.
Mr. Michael Simire, Director of EnviroNews Nigeria, called for more media capacity building and participation to further raise awareness about ocean literacy issues in Nigeria.
Mr. Chike Paul, the Deputy Director, Centre for Youth Policy, Research, Advocacy and Development (CYPRAD), emphasised the need for youth engagement on ocean literacy issues in schools and universities.
Mr. Toyin Oshaniwa, Executive Director, Natures Resource Centre, and Mr. Olusola Adeoye of the Ocean Decade Committee, called for determination of the existence of the various maritime policies frameworks and legislations in the various Federal Ministries saddled with ocean issues in Nigeria, and the need for its streamlining and harmonisation.
In giving direction for the next steps, Akpan noted: "The focus of the United Nations Decade of Ocean Science for Sustainable Development (2021-2030) is to develop a global partnership to raise the awareness on the conservation, restoration and sustainable use of our ocean and its resources and to build an improved public knowledge base across the world's population regarding our global ocean.
"An equally transformational part of the Decade is about us and our relationship with the ocean, understanding of the value of the ocean can be nurtured through ocean literacy efforts among diverse stakeholders' groups. Hence the establishment of a multistakeholder Ocean Literacy Action Network in Nigeria with all participants present as members."
Akpan also noted that a virtual International Multistakeholder Ocean Literacy Workshop would soon be organised to flesh out the vision, mission objectives, project activities and expected outcomes of the multistakeholder Ocean Literacy Action Network in Nigeria.
"These objectives match the outputs envisaged in the strategic plan 2021-2025 that will be developed for the multistakeholder Ocean Literacy Action Network in Nigeria, namely, strengthening network membership, supporting training, capacity building and Education, Policy and Legislative Advocacy, Awareness, Research, Knowledge development and dissemination and Funding Support on mainstreaming Ocean Literacy in Maritime Policy Frameworks and Legislations in Nigeria," said Akpan.