Two civil society organisations (CSOs), We the People and Development Concern, have called for the immediate revocation of mining leases granted to the firms of Abdulrasaq and Company International Mining Limited and Vintage Mining and Exploration Limited within the Cross River National Park, Oban sector forest.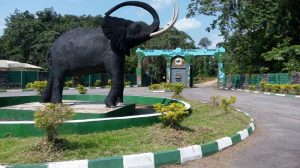 The groups, who made the call during a press briefing in Calabar, the Cross River State capital, said the call has become imperative to halt any ongoing mining activities and prevent further ecological degradation.
The representative of We the People, Ken Henshaw, and his Development Concern counterpart, Dr Martin Egot, said they are aware that the Federal Ministry of Mines and Steel Development has granted mining rights to the two companies to carry out mining activities in the area of the National Park against all existing laws and regulations in the country.
Citing section 22 of the National Park Service Act (2006) which delineates the functions of management committees, reinforcing the exclusive dedication of national parks to the propagation, protection and management of vegetation and wildlife, they said Section 29 of the same Act clearly makes it an offence for any unauthorised person to go into the National Park without permission of the Conservator General.
Beyond this, the group pointed out that section 30 (1) of the Act and the Nigerian Minerals and Mining Act (2007) explicitly prohibits minerals exploration and exploitation in Nigeria and also prohibits mining activities in areas under the purview of the National Commission for Museum and Monuments Act.
"With these two laws compelling legislative instruments, each banning mining activities in the National Park, we wonder why mining is currently going on in the Cross River National Park.
We also wonder the extent to which the Ministry of Mines and Steel Development responsible for issuing mining rights con rightly supersede the jurisdiction of the ministry vested with environmental conservation," they stated.
The groups declared that permitting mining activities in the national park would seriously impact the ecosystem and destroy the essence of conservation, while opening the forest to other risks including wildlife hunting and logging.
The groups, who called for the mobilisation of relevant security agencies to vacate mining operatives from the mining site, further called for the conduct of an independent and thorough environmental impact assessment on the affected area to determine the extent of damage already caused by the mining activities and provide basis for appropriate remediation measures.
"We demand that, the Ministry of Mines and Steel Development for granting the mining lease without proper authorisation, should made to face appropriate sanctions for this breach as this will serve as a deterrent against future violations and emphasise the significance of adherence to legal protocols.
"We also call for the active engagement of local communities surrounding Cross River National Park, Oban section in the conservation efforts and appropriate compensation and remediation measures be undertaken in case of significant ecological damage," the groups added.
By Stina Ezin