The Ecumenical Water Network (EWN) and Corporate Accountability and Public Participation Africa (CAPPA) have emphasised the importance of robust campaign strategies if water privatisation plans in Nigeria and other countries in Africa must be defeated.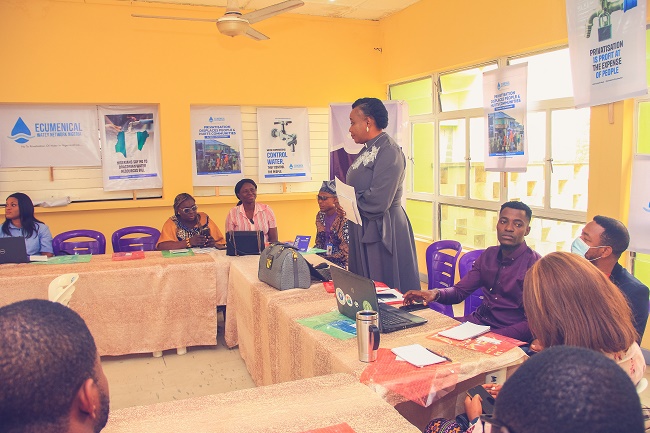 They drew this conclusion at a "Training the Trainers Workshop on No to Water Privatisation Campaign in Nigeria", which held in Ibadan, the Oyo State capital, on February 17, 2023.
The workshop brought together members of ecumenical bodies, civil society, gender specialists, people living with disabilities, the media, and researchers, among others.
In her welcome words, Coordinator of the network, Rev Dr. Uzoaku Williams, said the training is timely in view of the precarious water situation in Nigeria and across Africa which she described as a human right disaster.
Williams said that when there is no water the home will be messy because water plays a vital role in hygiene particularly of girls and women.
She explained that the Ecumenical Water Network is a brainchild of the World Council of Churches and her members in Nigeria started their grassroots engagement with programmes in Makoko and other areas where people were experiencing human rights abuses. She opined that the turning point of the work of the network was when they started working to advance the human right to water because of the centrality of water to every basic need.
Going further, she pointed out that the network has played pivotal role in challenging the National Water Resources Bill and will continue to do so because of its anti-people provisions.
She also disclosed the network's five-year plan which is essentially to make Nigerians conscious of water rights.
Giving an Overview of EWN engagements on water, the Very Rev. Kolade Fadahunsi argued that water privatisation will worsen the crisis of water shortage in hence the decision of the network to embark on the campaign on No to Water Privatisation.
Fadahunsi said that water must no longer be treated as a commodity because it is an essence of life and should be seen as such, even as he added that the World Bank and International Monetary Fund (IMF) are the biggest drivers of water privatisation on the continent.
Giving a breakdown of statistics on how Nigerians access water, the clergyman revealed that 57% of Nigerians depend on borehole, 25% depend on wells, 14% tap water, 3% on rivers and another 1% on ponds.
He went further to say that lack of access to water is also a reason for the herders-land owners' crisis in the northern part of Nigeria which has led to deaths, displacements and animosity among former peaceful communities.
To further escalate he challenges of access, he said the network is exploiting the Lenten Season which starts on Wednesday February 22 to commence seven weeks of water commemoration to reflect on water issues.
During the training, presentations were made by Philip Jakpor, CAPPA director of programmes, who spoke on "Engaging the media on water advocacy" and explained that no successful advocacy is possible without a robust relationship between advocates and the media.
Aderonke Ige and Olatunji Buhari, both associate directors at CAPPA, spoke on "Reflections on Water Justice Campaign in Africa and Nigeria" and "What the law says and Community Water Parliaments" respectively.
The training also included a practical session on "Strategies for Organising a Water Campaign Advocacy and Public Actions", a session on developing the requisite skill for a solid campaign against water privatisation and networking sessions.