Women's limited or lack of capacity to engage climate finance and the Green Climate Fund (GCF) processes were among numerous issues addressed at a series of sessions held recently in Lagos and Rivers states.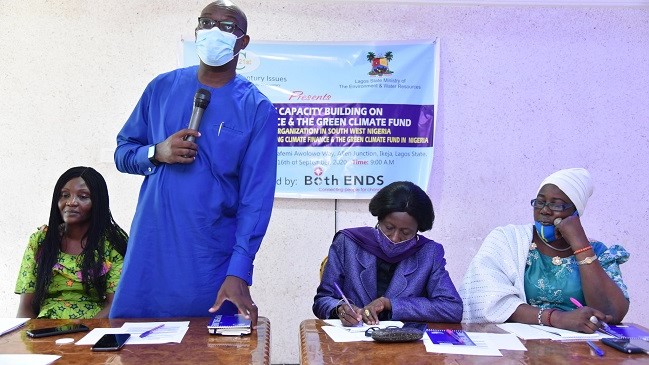 The "Capacity Building on Climate Finance and the Green Climate Fund for Women" held courtesy of the Centre for 21st Century Issues and Both Ends also addressed gender-based barriers that restrict women's access to climate finance and key GCF resources needed to mitigate and adapt to the adverse impacts of climate change.
The forums also integrated gender and women's empowerment and climate resilience into policies, action plans and budgets around water, health, sanitation, energy, food security and livelihoods.
Speaking on climate change and how women's group can engage the GCF processes in Nigeria, Ms. Titi Akosa of Centre for 21st Century Issues said, "The capacity building is a strategic entry point for women to engage the process from the outset and to ensure women issues and women-led climate actions are prioritised."
She urged participants to embark on community consultations, engage the climate change action plan, develop bankable proposals, build their profiles to become 'experts' as this would help in harnessing the opportunities of engaging the GCF processes in Nigeria.
Highlighting Nigeria's gender and climate change action plan, she noted that "it is a national action plan on gender and climate change which is focused on agriculture, forestry and land use; food security and health; energy and transport; waste management; water and sanitation. The action plan covers the period 2020-2025. This will guide effective consideration of gender issues in Nigeria's response to climate change."
The participants were enlightened on the need to adopt a bottoms-up approach in catalysing climate action that benefits women and the most vulnerable because mobilising climate finance at scale to respond to the adverse impact of climate change is of crucial importance to many developing countries.
Dr Eugene Itua of Natural Eco Capital during his presentation on climate finance and green finance, explained the importance of climate finance for climate action.
He stressed that the programme has been specifically designed to reach out to women representatives especially in the area of capacity building, adding that the climate finance landscape which involves policies, budgeting, carrying out projects, takes long term.
While speaking on the supportive developmental roles of AFDB and the World Bank, he said CSOs can also take the centre stage in green finance and climate finance.
He urged the participants to improve on presenting better climate projects that can attract climate finance projects that are environmentally and ecologically sustaining.
Also, Ms. Emmem Bridget of Kebetache Women Resource Centre, in her presentation, spoke about gender and climate change taking into cognisance the gender and climate change action plan and how local women can have gender-just solutions that can attract climate finance.
At the Lagos session, Roseline Akinbo, Chairman, Board of Trustee for Centre for 21st Century Issues, welcomed all participants and urged women to take the opportunity of the GCF, so that they can benefit from the funding. She urged the ministry of environment to also provide a good synergy.
Mr. Bankole Michael, Director Climate Change and Environmental Planning, Lagos state Ministry of Environment, noted that financing is very important, and one of the most impacted group are the "women" when it comes to climate change.
He noted that the 2021/2022 budget preparation in Lagos State has catered for the inclusion of gender-based climate action, and such the training would help in pushing the drive further.
He said many are in denial of climate change, while some others do not understand the concept of climate change.
While Dr. Dotun Bobadoye, Chief Operating Officer (COO), Global Emerging Pathogens Treatment Consortium (GET) explained the nexus between gender and climate finance, Uche Idoko of the Centre for Gender Economics Initiative (CGE Africa) analysed gender budgeting and climate finance for the participants, taking into cognisance the role of women.
Akosa also said the participants must understand GCF readiness programme which involves consultation of stakeholders. She listed some of the points to include:
This is a collective engagement. Our NIEs will be engaged so that women must be recognised in the process.
Entry points must be identified. Community consultation must be done. Accountability and gender policy is important in engaging the GCF. Also, gender action plan is very key, and gender balance is important.
In gender budgeting analysis, do not focus on a sector/area alone, relativity with some other sector/area is key.
Use of gender sensitive-language is important in gender action plan.
All gender policies across different sectors and the role of women in it is imperative for the basis of gender analysis. Understanding gender action plan is very important.
Read projects on GCF website.
Writing good interventions that can be tabled for funding from the GCF board.
Moulding leaders of network who will go back to their system to recreate the capacity.
The capacity-building at the end of the day reflected the fact that climate change is a big issue, and that Africa has not been harnessing the GCF in recent years because it has continued to fall below the standard.
While the version for South-South/East region held on Wednesday, September 9, 2020, the South West edition held in Lagos a week later on Wednesday, September 16.