Young Advocates for a Sustainable and Inclusive Future (YASIF), a group that advocates for environmental rights, has urged policymakers to adopt measures that support more environmentally friendly behaviors in order to improve Nigeria's woefully inefficient waste management systems.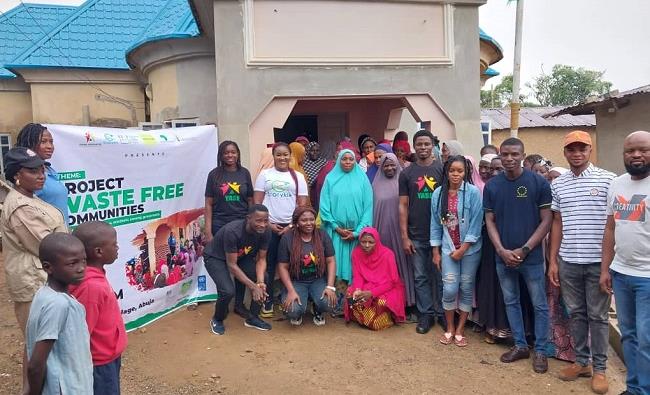 The organisation, which made the announcement while visiting Karon Majiji, a rural town in Abuja, to assess how the women it trained to manage plastic waste in the community were using their skills, bemoaned the fact that the women were picking up the plastic waste with their bare hands, which is harmful to their health.
"When we talk about saving the environment, our health must come first," says Blessing Ewa, the founder of YASIF.
According to Ewa, her organisation launched the "Project Waste Free Communities" campaign last year to educate and empower women about waste management and recycling in order to protect the environment and improve their socioeconomic well-being.
In her report on the campaign's progress, she revealed that the women in the hamlet she visited have so far sorted through more than 1,000 kg of plastic waste and have pledged to continue their efforts to promote ecological conservation.
She promised that her establishment will keep supporting community members' capacity to advance their skills and support efficient waste management methods.
One of the women who benefited from the training, Awah Usman, said that the exercise had not only allowed her to keep her environment clean but had also given her the opportunity to make additional money from the sale of plastic.
"I can now support my husband, who has no source of income at the moment, as well as my sick mother, who is also in my care," she explained.
Usman wants to learn how to turn the plastic trash she collects and sells into finished goods herself because there isn't much money to be made just picking and selling them, which she says is one of the factors that deters people from starting their own recycling business.
She nevertheless urged the other women in the area to continue and to see the activity as a means of preventing environmental contamination from rubbish, as well as a source of additional income to help them feed themselves and their families.
Asumi Adamu, another trained member of the community, told the crew that when most of the women see her picking up plastics around the community, they usually laugh at her, which she says is one of the things that keeps her motivated to help them see waste as wealth.
In a similar vein to the previous recipient, she stated that after the skill-building programme was completed, she began collecting and selling plastic waste to support her family and promote environmental cleanliness.
Adamu was overjoyed that the money she made from selling the plastics she collected allowed her to expand her small business, buy some household items, and support other aspects of her family's lives.
"I'm looking forward to receiving more training on how to increase my profits from my plastics business," she expressed her desire.
By Etta Michael Bisong, Abuja